FlashOn Instagramers 1.15: @Tuana
.
Each week we discover new and interesting feeds in Instagram.  This section FlashOn is an open space where we give a shout out and promote IG users.  No need to have thousands and thousands of followers! Soon, it could be your turn!
This week we decided to highlight @Tuana.  Tuana Aziz is from Iraq but lives in Sweden. He decided few weeks ago to launch an Instagramers Local group in Skovde. You will find full information about Tuana´s art and  his Minibio below the pic. Check his stream  of this interesting artitst here.
.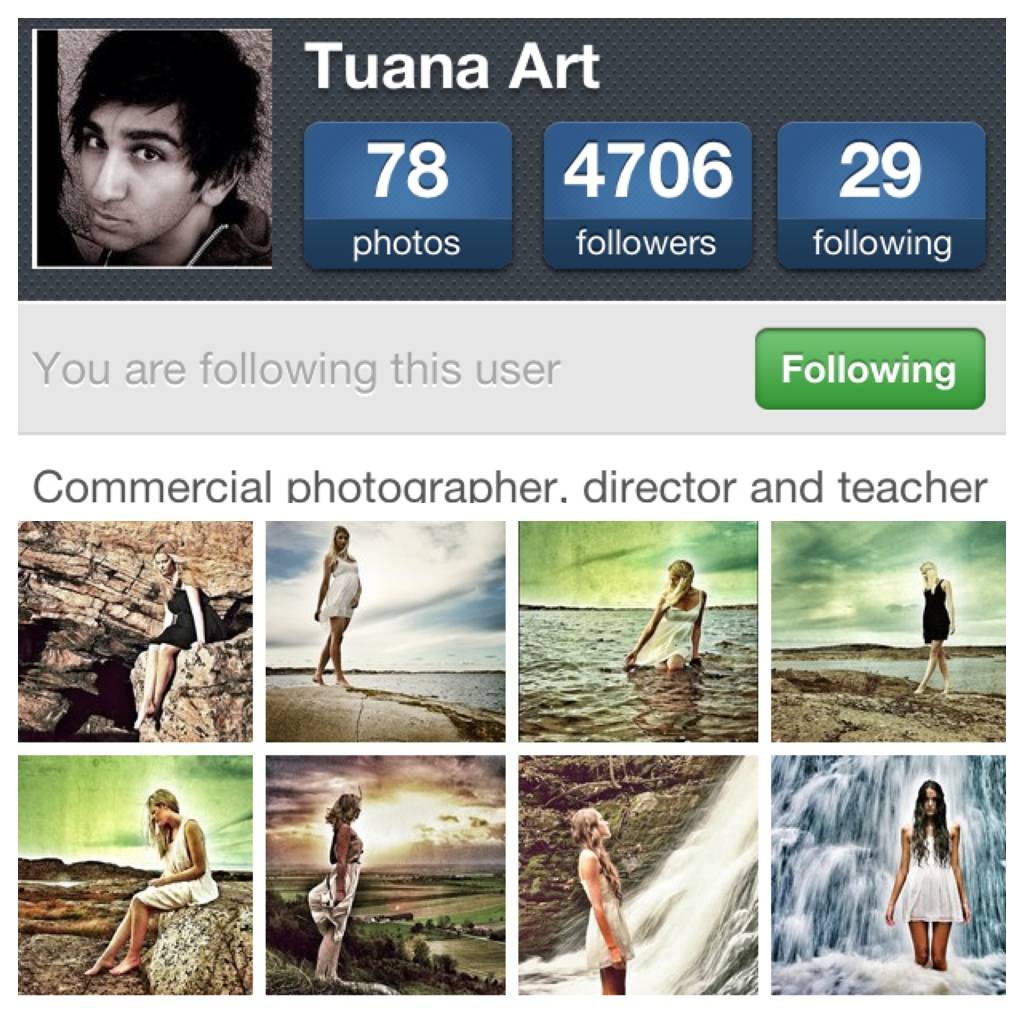 .
@Tuana is a young guy. He born in Slemani in Iraq,  3 January 1987.
He spent his childhood in a big way in Iraq until he was 8 years as the family decided to move from Iraq and moved to Sweden in 1996. "It's probably one of the best things that have happened in my life" he says. "Living in such a free country gave me the opportunity to develop as a person".
When he was 16 he started a Graphic Design school.
During his time in high school he started getting more interest in photography. He started working as a telephone salesman to save money for his first SLR. He thought if he had the SLR he would be a photographer. In 2007, he bought his first camera, a Canon 350D.
He started directly own business, Tuana Photography (now called Tuana Art). Then he could not even set the aperture and shutter speed, but had more and more jobs. He learned more about photography through test him out. When he finished high school he decided to go one year at photography school where he learned about analog and digital photography.
In 2009 he got a job as Graphics, design and photography teacher in his own high school.
With 22 years old, he was the youngest teacher at work.
He became bolder and learned to see things from another angle and had also the opportunity to develop his own business by purchasing new cameras and other equipment that I needed.
In 2007 he bought his first iPhone from U.S.
He fell immediately in love with the phone. The idea of ​​having a camera phone with him everywhere was unbelievable. First, he photographed everything he saw around him. But after a while he began to realize that he could use his iPhone for much more than only taking pics of things around him. He decided to do a photo-shoot just with his iPhone.
The model hired thought he was crazy. But when she finally saw the results, she was amazed. He began to realize that photography was not only about good cameras or lenses but about his imagination and creativity.
Then, he discovered Instagram.
He found out that lots of  photographers were creating and sharing thoughts. He started to get more and more followers  and this inspired him to create more and more.  He decided then to focus in a single theme throughout the year, he called The Last Princess.
Models have long hair and beautiful dresses and all images are photographed outdoors around his place. He decided to use iPhone camera only and iphone apps. No photoshop, nor SLR.
.
Swedish medias started to show some interest in his iphoneography art and invited him to talk recently on radio, TV and some local newspapers. In October he had his first art exhibition where he only exhibited iPhone pics. The exhibition became very popular. People were very astonished by Iphone Pics quality and he had long conversations showing attendants them the photographs were photographed with an iPhone and just edited with iPhone apps.
.
Now he works on a new project. A photo book with 100 iPhone pictures which will be printed in December or January 2012. His plans are to stop working as a teacher in July 2012 and fully focus on his business "Tuana Art".
"I want to develop as an artist and to start up all the projects that I have always dreamt about".
Thanks @Tuana for this amazing history of a young guy coming from Iraq who discovered  a new creative life and passion in Sweden.
@philgonzalez
.
Stay tuned with Tuana on social networks!
.