FlashOn Instagramers 1.36: @Rafik_Jabbour
.
Each week we discover new and interesting feeds onInstagram. This section FlashOn is an open space where we give a shout out and promote IG users. No need to have thousands and thousands of followers! Soon, it could be your turn!
.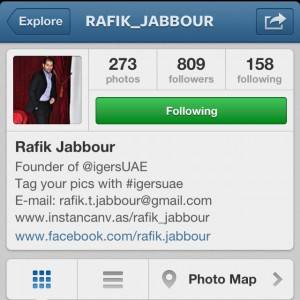 His name is Rafik Jabbour.
Rafik
is a 25 year old Syrian guy who has been living his entire life in
Dubai
,
UAE
.
Since he was a kid  he had a passion about engineering and architecture, he loved looking out on buildings and beautiful designs. Also, something about cars moved him and got him hooked and made a petrolhead out of him, he owned a racing car (BMW M3) and he was a Drifting/Racing Instructor for 3 years until his job got him full time and he rarely had time to practice his hobby.
Now he is working as a Civil Engineer
in the third tallest residential tower in the world
(
Elite Residence Tower
) located in
Dubai Marina
.
He enjoys life, and he says, he lives everyday as if it was his last, which pushed him into photography.
.
He likes capturing moments and having them cherished in future; looking at things from a different perspective and making the world see what not everybody can see. He enjoys spending time setting up his camera, mounting it, and preparing himself for shooting. It is just a good feeling to know he will be coming back home with photos to share.
According to him,
Instagram
is one of the best apps he has ever experienced. Allowing users to communicate through photos leaving words aside.
"A human brain always respond productively to Images more than to words" which is why he used to make all his presentations at University using photos.
Rafik is not only a photographer interested by Instagram in Dubai.
One day, the idea of
igersUAE (our Instagramers local group in UAE)
just popped in his head. He had no plan to run or start any account, but
the fact that UAE has seven Emirates and the growth of Photography in UAE
 was increasing, pushed him forward to start one.
Rafik won recently the Gulf News Readers Photography Contest and was featured on their newspaper
.
.
"Many users out there are left behind and deserve many more followers as their work should be published out to the world. I am giving them the chance to feature them on a daily basis using Instagram, Twitter, and facebook to have their photos seen. With time, I'm hoping to be able to make it grow, have instameets, and run some photo competitions with some benefits for the winners to encourage everybody to grab their cameras and start snapping".
We wish you a great time on Instagram and share with us these beautiful views of your country!
@philgonzalez