FlashOn Instagramers 1.37: @Rashiq from Beijing
.
Each week we discover new and interesting feeds on Instagram. This section FlashOn is an open space where we give a shout out and promote IG users. No need to have thousands and thousands of followers! Soon, it could be your turn!
.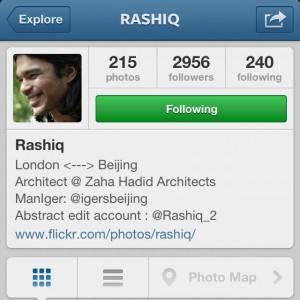 His name is Rashiq.
He is an architect, hailing from
India
, working with
Zaha Hadid
and he is based in
London
and
Beijing
. I met
@Rashiq
through
Instagram
, the day he asked me to join our
Instagramers Network
and be responsible for a new group 
@IgersBeijing
. I thought he deserved to be featured here at
Flash On
section.
He moved to Beijing 3 years back to work on a few projects. Being a serial traveller he has ended up doing various things seriously throughout his life. Photography is one that has lasted, having taken his first photograph using his father's old Ricoh compact camera ( which he ended up owning thanks to his constant use of it.) when he was 8 years old.
He has  since been featured and exhibited at a
national
and
community levels
a few times. Architecture school consumed his time for a while and he had to take a break from serious photography. But
Instagram
reignited his passion for it again.
"It was not really the photographical aspect of it that lead me to my attachment for IG.. but it was more the people"
says Rashiq.
The community and the friendships developed over this virtual platform that has led his to his addiction.
"When I take a photo, I'm always thinking of sharing it with my new found "virtual" friends. I stumbled upon instagram accidentally when a friend of mine showed it to me and forced me to download it and start using it (ironically, this friend of mine is now an inactive user)".
He started with Instagramers Beijing a.k.a @igersBeijing in October 2011.
The group has grown exponentially ever since. They have held a number of photowalks, dinners, brunches and drinks and have become a pleasant social group. Few months back he took a break from his personal account @rashiq, to promote @igersBeijing within Beijing. The result was a rousing success as @igersBeijing is now recognized as one of the premier photo groups in Beijing. They have been featured and interviewed in numerous magazines and newspapers. (see picture here)
"The photo of the month in Beijings local city magazine, "The Beijinger" is now selected by me from the #igersBeijing users/ hash tag".
Rashiq has been invited to feature the best pics of #IgersBeijing on "The Beijinger" and he also talks about the success of @igersbeijing in various design and social forums. Recently the cover of "the Beijinger" decided to do a cover feature on Photography in Beijing and they decided to feature two of our Beijings instagramers, @Rashiq and @beijingemily on its cover photo.
@igersBeijing was also invited to do a photowalk in a dilapidated area of Beijing which was set for redevelopment. Seen more as a Photo Project, rather than a Photo walk, they walked around the area making notes and taking photos with the redevelopment in mind.
IgersBeijing were awarded third place (denied the first place as it was not an architectural project) and were highly praised by the judges and organizers for their in-depth research, photos, observation and comments.
"Personally, I like to capture emotive photos. I need the photos to speak to me, and only then will I post it. I want my followers to connect with me through my photographs. I'm always experimenting, and don't have a fixed theme or style. I'm also an avid writer and story teller. All my photos usually come with a related personal story or an informative blurb on either the post or how I approached the shot. I figure that when I grow old and grey, I'll have something to reflect on".
(follow reading…)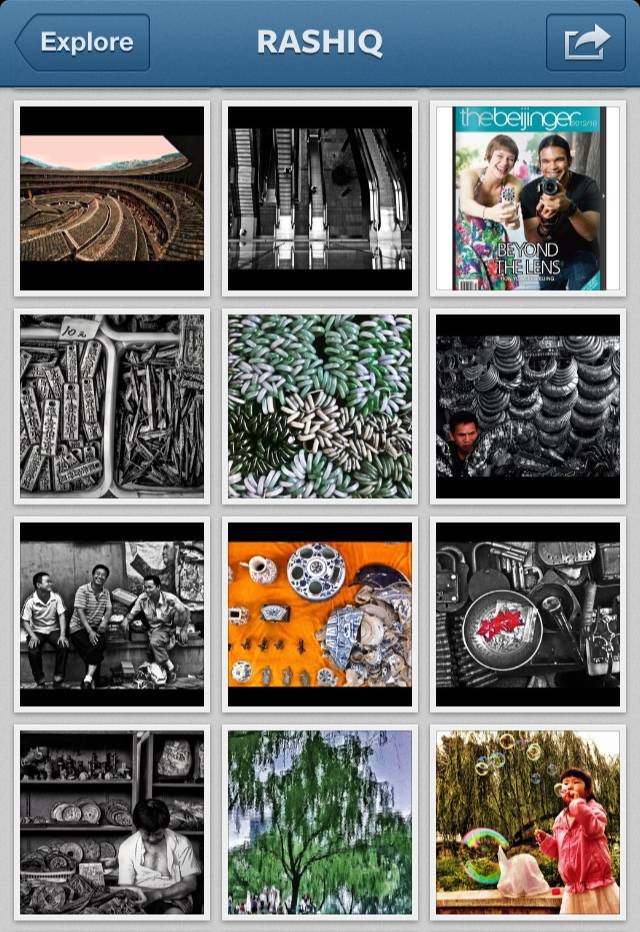 "Instagram has been a perfect platform for me with regards to two of my passions, photography and Writing" says Rashiq.
He has no theme or a particular style.  He shoots, captures and absorbs almost anything that moves him to do so. His personal favourite, though, are people. He love people photography, and he guesses it has to do with him wanting to capture emotions. He tries to keep his feed entertaining with photos from his travels and everyday life, giving snippets of his life journey and to understand him better.
Of late he has been consumed by work and has not been too regular with his posting. But he is  still around and tries to make a post once in a while. His pictures reflects Life in Beijing and that´s why I tought it was really interesting to have his own perspective.
"Hopefully, I should be free(er) soon and will resume being regular on my feed. I hope to transform @igersbeijing from more than being about photography. But to use its role as an influential social tool to affect and change the way we look at the world."
We wish you a great time on
Instagram
and share with us these beautiful views of your country!
@philgonzalez