After 'The Love Box' now the 'AbracadabrApp'; an Analog Image Mixter and Notebook in one! by Honest&Smile
.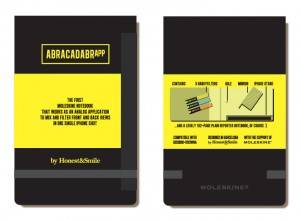 The first Moleskine Notebook that works as an analog application
.
.
.
 Coming
.

 very
.

 very
VERY
.

 soon….

.

.
About the project
.
Some months ago, Honest&Smile, a little independent agency from Barcelona launched The Love Box.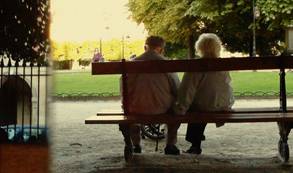 It was a hand-made video mixer for iPhone, built with wood and mirror. It allowed you to record two-sided videos in one single iphone's shot. And they used it to record a documentary, called 'The Love Box Conversations', which was entirely shot with the gadget and an iPhone 4, in Paris, during the Summer of 2011.
The product sold out, and Honest&Smile was very happy, so they decided to keep on exploring the world of analog apps to improve the digital lives…
And after several months of working and playing and trying…
.
.
.
What is AbracadabrApp?
.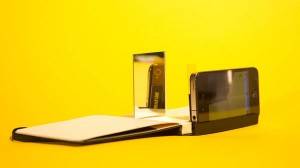 Honest&Smile explains: "So far, it's the 1st Moleskine Notebook that works as an analog application for your iPhone 4, 4S and 5. With its portable mirror, you can mix front and back views easily. Oh, and we've added 3 lovely HANDYFILTERS, to have fun in Instagram. And, well, it also works as a Notebook, of course!
To finalize the production, we needed to get through something tricky and a bit expensive: making the plastic slider. So we've decided to launch this project, in order to raise money and awareness and getting some friends going with us, we have reached our goal!"
.
Production will start soon!
And we'll have fun all together with the AbracadabrApp! ; )
.
.
AbracadabrApp details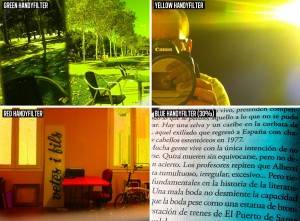 AbracadabrApp has been built from a 3.5 x 5.5 inches (9 x 14 cm) original MOLESKINE Reporter Plain Paper Notebook. You will find the HANDYFILTERS and the portable mirror inside the Notebook's back-cover envelope.  It also works as a lovely iPhone stand.
AbracadabrApp is compatible with iPhone 4 & 4S (without case) and with iPhone 5 (with any standard case).
...
Want to be one of the first to have the AbracadabrApp?
.
.
..
I'll be impaciently waiting for mine to arrive!
@kimberlysunster