Bay Area Union Square photo walk recap
.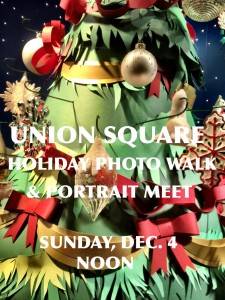 On December 4, approximately 60 avid Instagramers from around the Bay Area gathered in Union Square for a holiday photo walk organized jointly by the three local IG groups, @igerssf, @igerseastbay and @igerssv.
Also joining the endeavor was @postagram, which hosted the post-walk after-party at their offices on Market Street in downtown San Francisco. The Instawalk was the largest held to date in the San Francisco Bay Area, capping off an amazing year which saw Instagram grow to 14 million users worldwide!
Participants in the photo walk took in and photographed the many festive sights of the holiday season – decorative store windows, decked out Christmas trees, Grinches and Santas – in addition to the usual colorful characters that make San Francisco unique.
The walk kicked off (appropriately enough) at the flagship Apple Store on Market and Stockton Streets, and continued up Stockton past Macy's and Nieman Marcus before heading into Union Square proper. In Union Square, IGers were treated to a multitude of photos opps, including the holiday ice rink, the Macy's Christmas tree, stunning architecture, candids and street shots galore. Other stops on the photo walk included the lobby of the beautiful St. Francis hotel, the landmark Powell Street cable car turnaround and the Westfield Center's spectacular domed ceiling.
After the photo walk, IGers gathered at the headquarters of Sincerely, Inc., makers of Postagram postcards, for an after-party. Sincerely community manager Doctor Popular (@docpop) took the role of portrait photographer and participants struck their best poses for the (iPhone) camera. Photo walkers also had the chance to have some snacks and drinks, share editing and photo apps tips and just relax and enjoy each other's company.
The holiday photo walk and party was a fantastic way to end our first year as Instagramers. We look forward to more fun and camaraderie in 2012!
Check the Gallery of the Photowalk here.
All Photos from there photo walk can also be viewed at https://web.stagram.com/tag/unionsquarewalk/
@lauriekeiko
More info about  Instagramers San Francisco here , Instagramers East Bay here and Instagramers Silicon Valley here.