Brunei Darussalam's National Day on Instagram with our Instagramers Brunika Team
.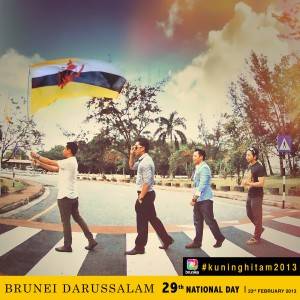 On the joyous occasion of Brunei Darussalam's National Day we would like to wish  and congratulate @brunika "Happy 29th National Day and to all of our fellows Bruneians."
This is a celebration of pride and joy in which Bruneians convey their history, heritage and culture towards a bright future of endless possibilities. 
On the occasion of celebrating their 29th National Day, lets celebrate by posting a Yellow and Black themed photos by using the official BRUNIKA 29th National Day hash tag " #kuninghitam2013 " in Instagram from 21st Febuary 2013 till 1st March 2013.
Which is also representing the patriotic color of the Brunei Darussalam flag. 
.
@brunika official Instagramers Network group in Brunei.