Celebration of Fleet Week New york in Instagram.
.
Your pics from Instagram LIVE in NYC Times Square.
.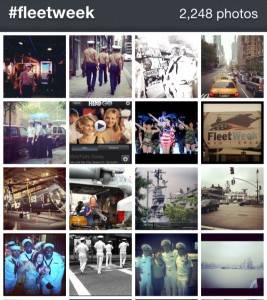 In celebration of Fleet Week New York and in support of U.S. Sailors, Marines and Coast Guardsmen, Verizon Wireless is showcasing a live stream of social content from the grounds of the celebration. User-submitted photos and encouraging words shared on social media platforms appear on the largest stage in the world, Times Square in New York City.
Now through May 30th, users can share their tweets, Instagram photos and Foursquare check-ins to Fleet Week events with the hashtag #fleetweek to be included on the enormous screen above MTV's famed studios and online.
It´s amazing! Have a look here!
More information at: https://fleetweek.feedmagnet.com/
@igers