Desigual Undie Party in Instagram with Instagramers
.
Desigual, the exuberant apparel and accessories brand, that is rapidly expanding in the U.S, has announced its latest in-store promotion:  The Undie Party.
.
On Friday, March 2, Desigual's San Francisco store will open its doors for the brand's third U.S. Undie Party celebration.
On Friday, March 2, the first Undie Partiers will show up around midnight to secure their place in line. (Only the first 100 get a FREE 2-Piece outfit of their choice when the doors open at 9 a.m.)
But if you're 1 of 3 Desigual Instagram winners, Sleep in late!
Just arrive by 9 a.m. We'll guarantee your spot in line when the doors open 🙂
How to Enter?
Take part between Wednesday Feb 22th until Feb 29th 2012
Have (or sign-up for) an Instagram account.
Submit images of 'Desigual' (your favorite garments, stores, logo…) via Instagram ™.
Tag #undieparty and #desigual. You can also follow @desigual profile.
The three most Liked pics will get a special pass for a guaranteed spot in line our Undie Party and get a free outfit!
Remember, this contest is about iPhone photography. We're looking for pics taken and processed on iPhone.
* Winners may redeem their prize only on March 2nd at 9am in front of the Desigual San Francisco Store (101 Powell Street).Terms & Conditions.
.
The first 100 people to arrive – wearing just their underwear – will walk out in a free two-piece Desigual outfit.
.
Desigual is expecting a shopping frenzy on the morning of January 28th, with the first 100 people in line having private access to the shop to select the top and bottom of their choice.
The Desigual Shop in San Francisco is on 101 Powell Street, San Francisco, CA 94108
.
time table:
Friday, March 2nd (Rain or Shine)
6:40a   –   Sunrise
7:00a   –  Line starts
8:00a   –   Qualification
9:00a   –   Doors Open!
Please Note: Participants must be 18 years old with a valid photo ID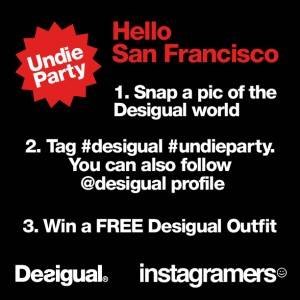 The value may exceed $1,000 per participant, depending on which items they select.  After the first 100 are admitted, the rest of the line will receive a 50% discount on their purchases for the day.
Desigual is characterised by its optimistic differential designs that are full of colour. The firm started its activity under the leitmotif 'Desigual, it's not the same' in 1984.
In recent years, the company has registered sustained growth greater than 50% per year and employs 3,000 people, from 83 different nationalities.Desigual closed 2010 with a world presence of 200 Desigual brand stores, 7,000 multi-brand stores, and 1,700 sections in major department stores, as well as reaching a turnover figure of €440m.
For more information, please visit facebook.com/desigual.