First exhibition of Instagramers Catania, Sicily
.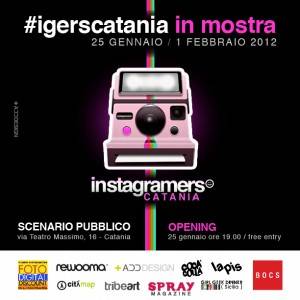 Our Sicilian active group Instagramers Catania will inaugurate next 25th January its first exhibition and first event outside of internet. 60 igers are involved.

Around 150 pics taken by around 60 users of Instagram and tagged with #igerscatania will be exhibited  and a large selection of the more than 5.000 pics tagged til now will be projected in a wall. As soundtrack of the opening Instagramers Catania will use the "vinilica"  mixtape published on the Italian design&art blog CocaColla.it
If you are around it will be a pleasure to meet you there,
@IgersCatania
.
More Info:
Opening: 25 january at 7.pm
Location: Scenario Pubblico, Via Teatro Massimo 16, Catania
From/to: 25 january til 1 february with Free entry
Press releases:
https://www.lapisnet.it/eventi/catania/igerscatania-in-mostra-la-citta-raccontata-con-l-iphone.htm
https://www.city-maps.it/citymaps/scheda/citylife?id=520
https://spettacolo.lasiciliaweb.it/index.php?id=70239/mostre/catania-raccontata-con-instagram
https://www.cataniatoday.it/eventi/mostre/igerscatania-mostra-la-citta-raccontata-iphone.html
https://www.palermomania.it/news.php?id=34765&categoria=ARTE%20-%20CULTURA%20-%20SCUOLA%20-%20SPECIALI
Articles from the main two daily newspapers in Sicily:
https://www.facebook.com/photo.php?fbid=277505532312871&set=a.277505448979546.70912.187007284696030&type=3&theater
https://www.facebook.com/photo.php?fbid=278774878852603&set=a.277505448979546.70912.187007284696030&type=3&theater