Instagram Stories it's here (to stay?) And fill that niche that Snapchat was hoarding.
So far so good, but… do we know how to used it? While its interface is quite intuitive, there're some differences here and there with the "inspiration" of its new feature.
We share with you some details on how Instagram Stories works and some similarities/ differences with Snapchat.
Okay. But … How it is used?
Sharing a story Instagram is very similar to share a snap in Snapchat.
The stories are temporary photos or videos that come together in a slideshow, that is "live" 24 hours before being automatically deleted.
To create an Instagram Story you can:
Press the icon with the plus sign in the upper left corner of your screen or slide right in your Instagram feed (you must have the latest version of Instagram installed).
Click the circular bottom to take a picture or leave it pressed to capture video. Just keep in mind that the video will be 10 seconds long, tops.
Edit your photo or video by adding text, emoji or draw on them with the 3 different brushes. You can also slide right or left to add filters.
Click Done to save your story.
Click the icon with the check mark to publish your story.
Tips:
You can control who sees your stories by pressing the gear icon on iOS (3 dots icon on Android) or slide down in your story to access the same options. From there you can select who can (or can't) view your publication.
There you can also select who can answer/ comment on your stories: Everyone, People you follow or Off.
If there is a photo or video of your story that you loved and you want to save before it is automatically deleted after 24 hours of its publication, you can do it individually selecting which slide you want to download to your photo reel.
In addition, you can share to your Instagram public feed, any slides (photos or videos) or delete them from your story, from the same screen.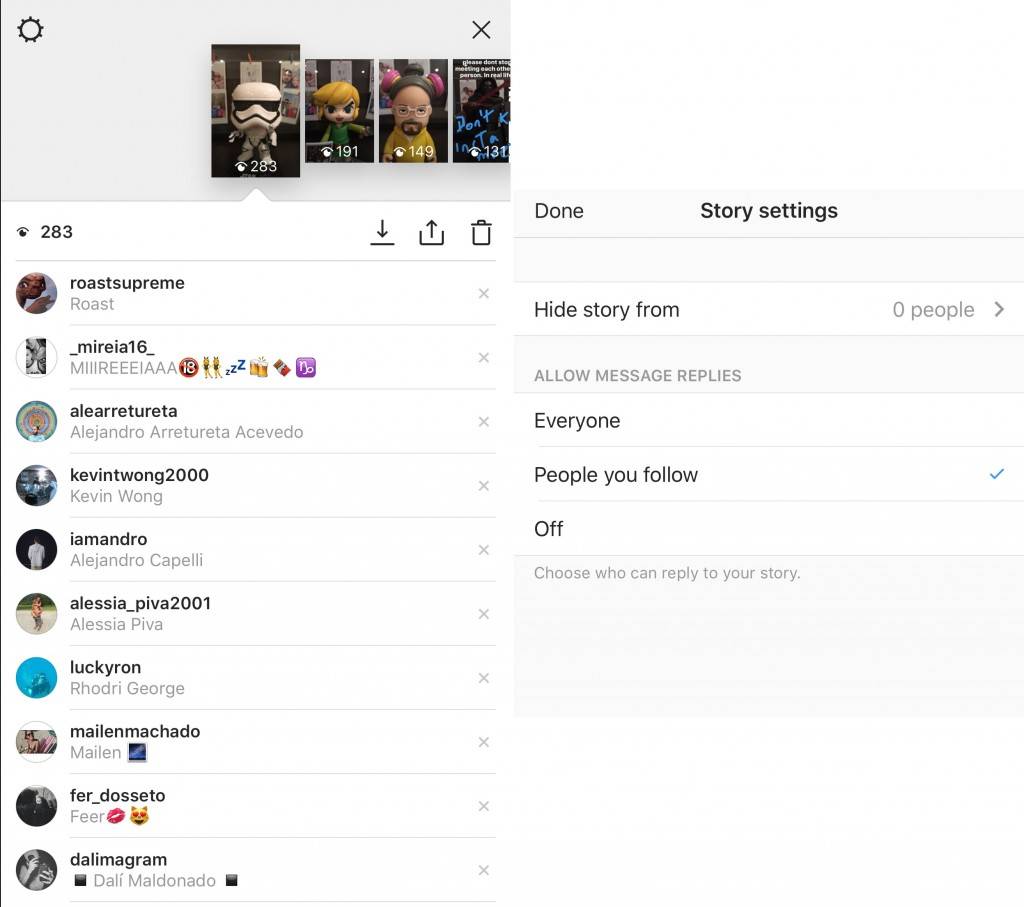 Similarities with Snapchat
Stories ties the last 24 hours of 10-second-max photos and videos you've shared into a slideshow you can tap to fast-forward through.
Everything you post disappears after 24 hours.
You shoot full-screen in the app or upload things from the last 24 hours of your camera roll (recently added to Snapchat with Memories).
You edit your photos with drawings, text, emojis and swipeable color filters.
You can save your individual Story slides before or after posting them.
Your followers voluntarily tap in to pull your Story and view it, instead of it being pushed into a single feed.
People can swipe up to reply to your Stories, which are delivered through Instagram Direct private messages.
You can see who's viewed your Story.
Differences with Snapchat
Instagram Stories appear in a row at the top of the main feed instead of on a separate screen like Snapchat, and are sorted by who you interact with most, not purely reverse chronological order like Snapchat.
Anyone you allow to follow you on Instagram can see your Instagram Stories, though you can also block people, as opposed to building a separate network on Snapchat.
You don't have to be following someone to view their Instagram Stories, which can be viewed from their profile as long as they're public and tapping on their avatar.
You can swipe right or tap the Stories icon in the top left to open the Stories camera, as opposed to Snapchat defaulting to the camera.
You can hold the screen to pause a slideshow, or tap the left side to go back a slide, as opposed to Snapchat's time-limited, constantly progressing Stories.
You can't add old content to Instagram Stories unless you re-import or screenshot, while Snapchat lets you share old Memories with a white border and timestamp around them.
Instagram offers three brush types for drawing: standard, translucent highlighter and color-outlined neon, as opposed to Snapchat's single brush.
Instagram offers custom color control for drawing with an easy picker, as well as pre-made palettes like earth-tones or grayscale, while Snapchat custom color control is much more clumsy.
Instagram currently lacks location filters, selfie lens filters, stickers, 3D stickers and speed effects, but you can save content from third-party apps like MSQRD and then share them.
You can't see who screenshotted your Instagram Story, while Snapchat warns you.
You can't save your whole day's Story like on Snapchat, but you can post slides from your Story to the permanent Instagram feed.
Have you already created some Instagram Story? Share it in the comments.