Instagram meets the institution: the project #InstaTER
Sunday March the 11th, for the Worldwide Instameet [see here], igers of @IgersBologna @igersForlì-Cesena @igersModena @igersReggioEmilia @igersRimini decided to join forces and they created the tag #INSTAzione [Link], the first instameet on a train, with stops. (see full post here)
.
Ter – Turism Emilia Romangna loved the idea and was partnership in this venture. Two weeks later TER arranged their first PhotoWalk in Modena, a few igers joined us at the event and from here the decision to plan something together was an easy step!
#InstaTER is the outcome of this short-circuit. And it's also the way in which an institution can accompany the growth of the local Igers community, and the latter can contribute heavily to the storytelling of the territory.
.
In simple terms, #instaTER is a schedule of outdoor photoshoots, planned by the partnership between the Regional Tourist Board and the different @Igers groups of the region Emilia-Romagna,  for the uncovering of art cities, amusement parks and other landmarks of the region.
The choice of the place is made at least a month before the chosen date.
We will try to visit many places of the region Emilia Romagna as possible and the choice is made according to the interest of a specific event considering the interest for the place, trying to diversify the schedule. On the day of the event, we meet up in a easily accessible landmark, we give to the participants a program for the day leaving total freedom, the important is that each of them can tell a story of what surrounds them, with their eyes and with their smartphones.
And this is the target of this project: to build a collective photographic story as seen by the eyes of the igers Emilia Romagna, and above all by the eyes of every iger that decides to follow us in our photographic adventures that we offer, month by month and, specially, to create an occasion to meet everybody in real life.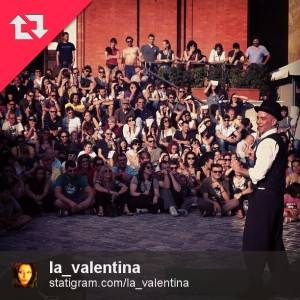 The first event of #instaTER was on April 21st at 'Oltremare' , a themed nature park of Riccione and  from April to July the trips of #instaTER reached Cervia with the International Kite Festival , 'Pennabilli' with the International Festival of Street Artists , Cesena with the 'San Giovanni' Fair and finally we closed the summer season with the International Theatre Festival in Santarcangelo square.
.
The importance of this project, for us Instagramers of Emilia Romagna, is to see how much an institution wants to get involved and join forces with a non typical photographic community like ours, deciding to support the visual social storytelling, not thinking about the instruments but only about the results: A unique story build on the sensibility of the igers, that look at the beauty of our region and sharing it not only on a regional scale, but even nationally and worldwide.
.
@IgersEmiliaRomagna
.
Thank @igersBologna @igersForlìCesena @igersModena @igersRimini  for this fantastic collaboration and thanks @igersitalia and @igers for all the support.
More info about  Instagramers Emilia Romagna [here] and Tourism Emilia Romagna [here ]