Instagramers Dubai partnership with Dubai International Film Festival
.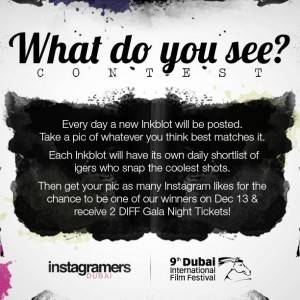 In under a year the igersDubai has gained notable traction, which makes us happy because all we really want is for more people to enjoy Instagram in a way that allows them to enjoy their city too.
 .
So far we've run a few contests and image challenges to better engage our followers, like #hiddendxb that asked them to capture the hidden gems of Dubai for a chance to win, #dxbwonders which was a 7-day challenge with the aim of capturing one wonder every day, and finally the Dubai International Film Festival (DIFF) sponsored challenge, #inkblot, that asked followers to share their answers in the form of instagrammed images for a chance to win DIFF gala night tickets.
We were really grateful and humbled to have DIFF on board – it makes all our effort and hard work worth it.
It was great year for igersDubai to finish with this sponsorship!
.
@bcarosini from @igersdubai
You can check the updates at Instagramers Dubai Stream