Instagramers Durban Team Introduction and Photowalk Announcement
.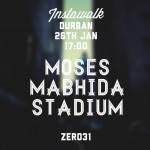 Meet our @IgersDurban Team here on this awesome video.
We, Instagramers Network are very proud of the work of our South African brothers!
Congrats to @GarethPon and his @igersSouthAfrica team! We will publish soon a recap around the Instameet that took place last 26th/27th January.
You can follow Instagramers South Africa on their brand new web!
.
Insta Walk from Simon Wilkes on Vimeo.
.
If you want to stay up to date on the Durban insta walks, join the Facebook page for updates.
facebook.com/InstagramersDurban
Video By @SimonWilkes