Instagramers Gallery Artists 2017 – and other news
Hi all, 
here's a big hello from the Instagramers Gallery in Madrid, located at the Telefónica Foundation, Fuencarral 3, Madrid, and we're thrilled to introduce you to this year's Instagramers Gallery's artists. We managed to mix all kind of different styles from 23 talented and international artists from all over the world. Among them famous chef Alberto Chicote and 10x kite-surf world champion Gisela Pulido!
.
The Instagramers Gallery is open from Tuesday to Sunday, from 10 am to 8 pm.
We invite you to come and visit the expo, or just have a coffee and relax!
.
.
But first… some other news:
.
Apart from the permanent (every year changing) international artist exhibition, we also organize bi-monthly photo-contests. Please follow us on Instagram, to not miss out on any of them. Your photo can be exhibited too! At the moment you can visit the #LeicaContest exhibition and before that we had the #PrimaveraPicglaze and the #HoudiniContest exhibition. (A small reminder to all #PrimaveraPicglaze contest winners, you can pick up your picture until July 14th.)
Not to miss our workshops….. We had the honor to listen and learn from Rodrigo Rivas (mobile photography), Alberto Ochoa (double exposure) Esmeralda Martín (fashion photography) and you can still sign up for our upcoming workshop Instagram Stories with Koi Samsa!
.
And in case you missed our last Instagram Party, have a look here!
.
.
"Bienvenido a la Instagramers Gallery"
.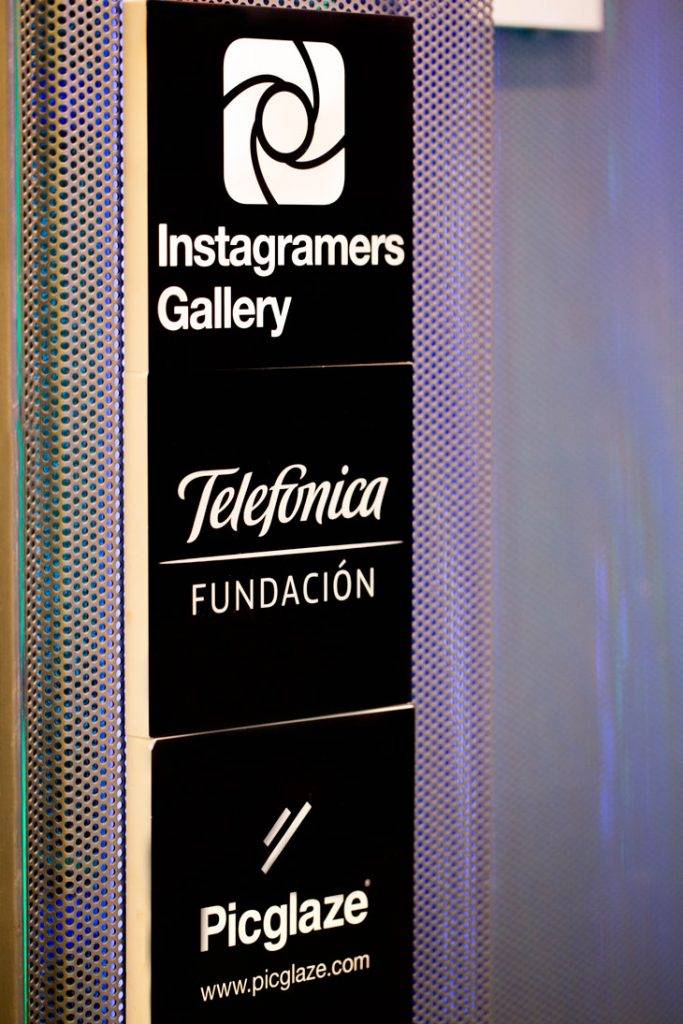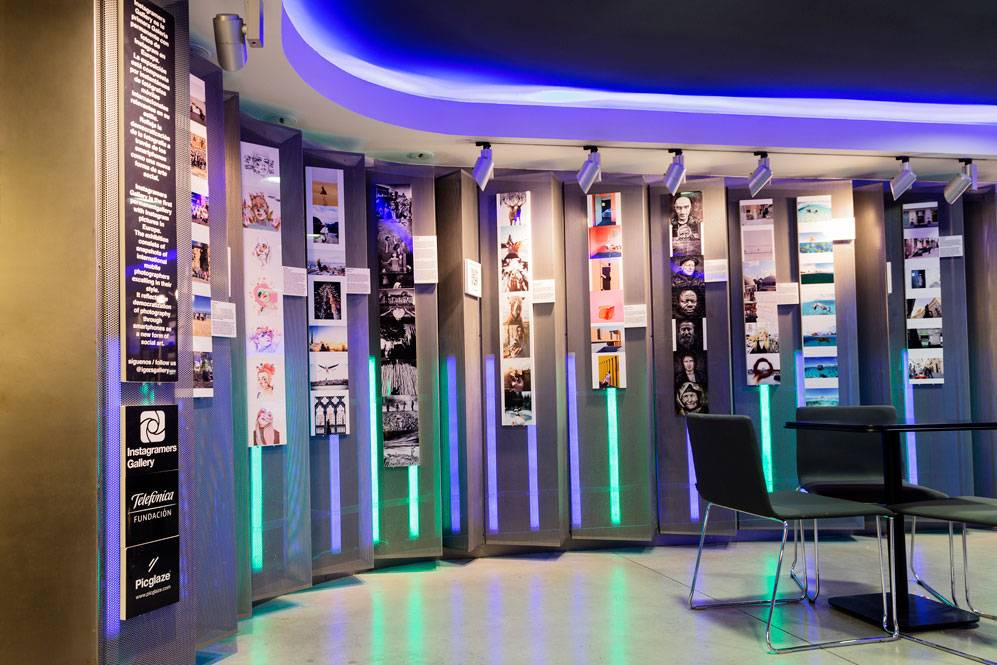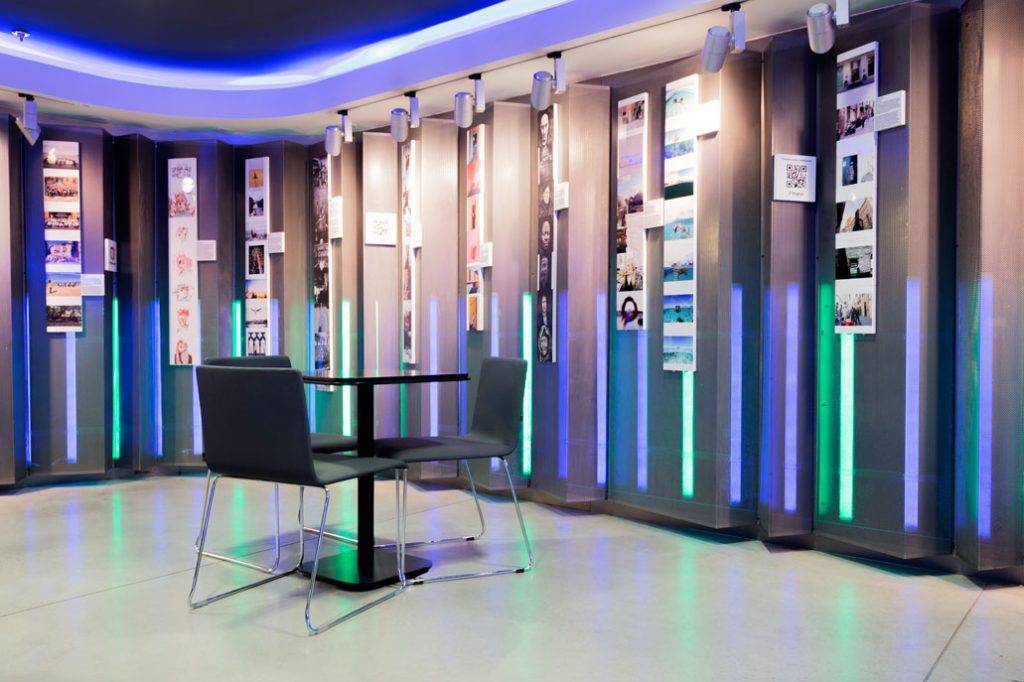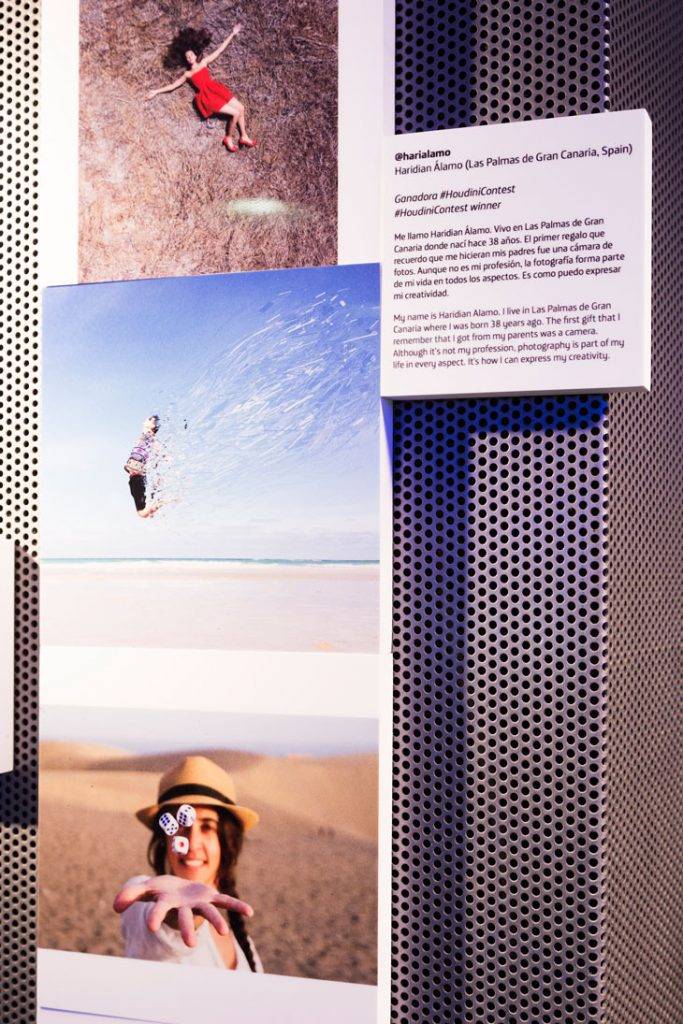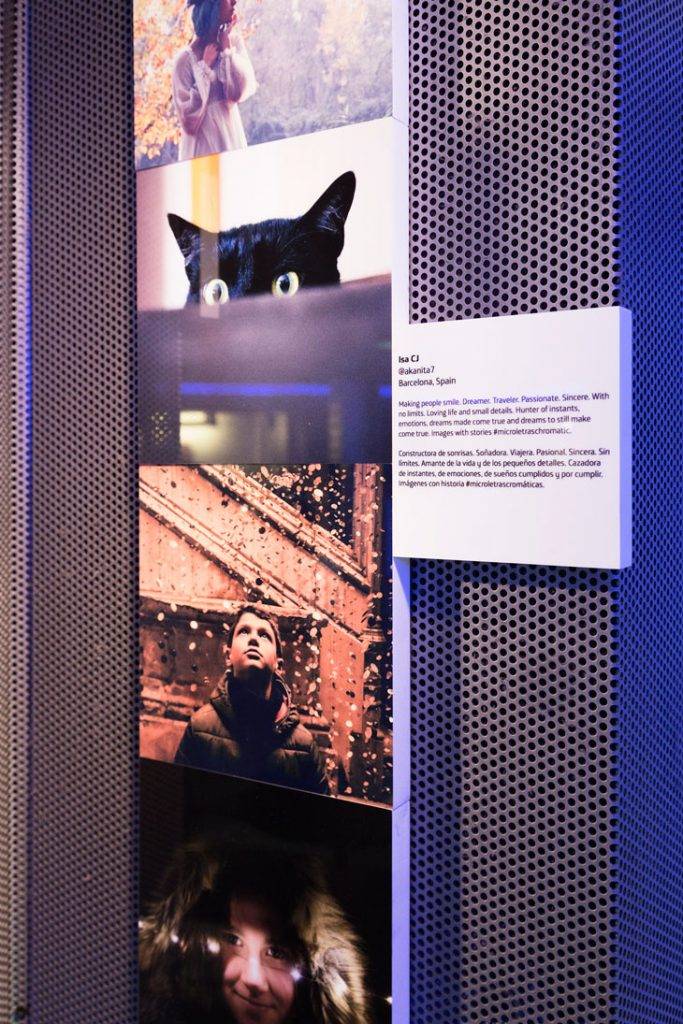 .
All pictures are made by our favorite insta- and street-photographer Rodrigo Rivas, who had his work exhibited last year at the Gallery. And a big thank you to our printing partner Picglaze. For all instagram lovers, with the code #INSTAGRAMERSGALLERY you'll have a 20% off on all your purchases.
.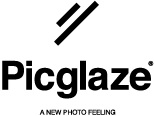 .
.
Instagramers Gallery Artists 2017
.
This slideshow requires JavaScript.
Meet the artists
Adriana Montaldo Vera
Buenos Aires, Argentina
Studied photography at the Creative Photography School Andy Goldstein, took courses in lighting with different professionals at the Argentinean Film Industry Academy. She dedicates herself to photography since 2007, currently exclusively to photography for Social Networks. She is also co-manager of Instagramers Buenos Aires community, Argentina; @igersbsas.
—
Alberto Ochoa Lence
Madrid, Spain
"When I was little I loved to see illustrations, photographs or any kind of images in books, I also liked to look at movie posters and CD covers. I noticed that a lot of those images were made of more than one photograph, but one within another. One often was a character and the second one was an image that explained some history or sentiment, or that's how I saw it. I started to investigate how these images were made and that's when I discovered the technique was called double exposure and after that I spent a lot of time on learning it."
—
Alberto Chicote
Madrid, Spain
"When I was 17, the Hotel School of Madrid was my first "stove". During three years, I combined my studies with stages in some of the best restaurants in Madrid. In April '95 I faced my first job as head chef of a small restaurant in Madrid where I started to interpret the Spanish cuisine and where I discovered that rules can be broken and can be rebuilt. So, in May '98 I accepted the proposal to inaugurate a challenging project to mix Spanish with Japanese cuisine. This work made me a pioneer in fusion cuisine in Spain. Since the beginning of 2012 I put all my interest in "Pesadilla en la cocina con Chicote", a television cooking program focused on rebuilding restaurants that are on the verge of closure. Apart from that, I work as gastronomic advisor and I take good care of my most desired project, my taverns "Yakitoro" the first one opened in 2014, together with the Chicote School, and the second one opened in 2016."
—
Ana Santos
Salamanca, Spain
"Degree of Fine Arts at the University of Salamanca (2003-2008). Later I studied Web Design and Advertising Creativity in Madrid. I currently work as a freelance illustrator in my own studio 'La Habitación de Lhéa'. I have worked for small clients and large publishers like Editorial Planeta and Penguin Random House, with whom I made my first illustrated book with David Aceituno "Las palabras (no) se las lleva el viento" by Lumen (2016). For me drawing is a passion since I was very small. At the moment I dedicate myself to illustrating portraits, mainly feminine, with delicate strokes and combining different techniques, where watercolor and pencil predominate."
—
Artem Makarov
Chernihiv, Ukraine
"I am a fantasist and art is my only love and passion. I try to find beauty and new meaning in everything around me. I attempt to bring my thoughts and imagination through illustrations and photos. My main goal is to inspire people to get creative! We have to make our life more beautiful and interesting, and I think Art is a great instrument for this."
—
Dani Parra
Madrid, Spain
Dani brings us closer to the street, to the people, to their looks… His pictures have a slight air of Steampunk's universe and shows us a different concept of the city, nevertheless his portraits make us look at ourselves. Known as the photographer of the homeless people in Madrid, he has been included in numerous exhibitions, noteworthy are the exhibitions for PhotoEspaña, Cultura Inquieta festival or an exhibition at Palacio de Cibeles in Madrid.
—
Esmeralda Martin
Madrid, Spain
Esmeralda Martin was born in Valencia in 1974. She worked for 15 years as an international and national model, studied at ICP photography in NYC and since 2003 dedicates herself to photography and fashion film. She has worked different areas of photography; as reporter in Bangladesh, with Muhammad Yunus and Queen Sofia, at the United Nations, had several exhibitions in Ibiza, at the City of Arts and Sciences, at the High Culture Gallery in Maastricht and at Fernelmont Contemporary Art in Belgium, although her main field is fashion, in which she has been working since she was 19 years old. Her complete work can be seen on: esmeraldamartin.com. "I think that a good photograph does not depend on the technique, but more on if it touches your heart or not."   
—
Gisela Pulido
Tarifa, Spain
Gisela was born in Barcelona in January 1994. She spent the first years of her life in Maresme and went kiteboarding for the first time in the summer of 2001 and in July 2002 she started her life as a kiteboarder. Now she has been 10 times World Champion in kitesurfing. "Hello, my name is Gisela Pulido. My friends call me Gigi. My special talent is that I have a lot of confidence in myself. My life philosophy is to never give up, nothing is easy, nor impossible. The most important person in my life is my father. My favorite food is Spanish and Italian. My favorite music before going into the water is dubstep. "
—
Instagramers
Worldwide
Instagramers is an independant and worlwide network of Instagram fans funded in Madrid in January 2011 by Phil González @philgonzalez. Today our Instagramers network or #IGers is present in more than 80 countries and has more than 500 groups collaborating under the same name and the same philosophy, with daily meet ups, exhibitions and other cultural events. On Instagram there are more than 200 million photos tagged with the hashtag #igers.
—
Judith Pavón Sayrach
Barcelona, Spain
Graphic designer and photographer from Barcelona. "I am interested in everything related to artistic creation, from painting and sculpture to music and poetry, but above all creative photography. I am a lover of nature, traveling and the color blue and its many nuances. I always look for the essence of small things both in my travels as in my daily life, almost always in a minimalist style with solitary spaces and with a certain dreamy air. I would like to continue learning and be in direct contact with this world of photography that I love so much, while working on interesting projects that allow me to grow personally and professionally. "
—
Karen Cantú Q.
Monterrey, Mexico
She does not consider herself a photographer nor a designer, but a creative human. Her unrealistic ideas and dream universes that challenge everyday life, made it possible for her to work on many projects and have exhibitions around the world. "If my art can make you dream or has inspired you, it has fulfilled its purpose."
—
Marina Masliukova
Kiev, Ukraine
"My name is Marina and I am 25 years old. I am graduated from medical Uni and I am a dentist by profession. Photography is my hobby and traveling inspires me. I love to take photos of nature, animals, birds, however I try myself in different types of photography. I can't go out without my camera. I like to discover new places and cultures, meet new people, make new friends. It´s like a breath for me and each trip is like fresh air. I never stop learning. I always read. My favorite book is " War and peace" and not a lot of people believe that but it's true that I'm happy when I meet people that like this great book too. I first read it in 6 days when I was 9. I hope you will enjoy my pictures."
—
Majid Saeedi
Tehran, Iran
Majid Saeedi is an Iranian documentary photographer. He has photographed Middle East with a focus on the humanitarian aspect for the past two decades. Majid also takes a special interest in telling the untold stories of social issues and social injustice through his photos. He started photography at the age of sixteen and when he turned eighteen, he went to Iran Iraq border to take photos of the refugees. 
Majid is currently collaborating with Getty Images, covering Afghanistan and Iran photo reportages. When Majid is not working, he likes to teach photography to students and mentor young photographers. Majid has won numerous prominent and prestigious photography awards from around the world. He has received the title of "The Best Photographer of Iran" eight times. His photos has been published in international presses such as Times, Spiegel, Life, New York Times, Washington Post, Washington Times, Time Magazine and various Middle Eastern publications.
—
Gabi Stickler
Frankfurt am Main, Germany
"My name is Gabi Stickler, I am 36 years old and live together with my husband, my Golden Retriever named Mali and a cat in Germany (Bavaria) near Frankfurt am Main. 3 years ago I started with photography. I love funny, colorful pictures with unusual perspectives and diverse ideas. My dog Mali and his friends Grisu and Savannah are my favorite models. They are always very happy when I take the camera out, because they connect with delicious rewards. My pictures are now worldwide known and there are already calendars, postcards and school articles with Mr. Golden Retriever MALI."
—
Tiana Kai Mader
Florence, Italy (and beyond)
To look at these nonni is to look at our own fate. These nonni make us reflect on what is important in life and who is important to us. What will we do with our short time here, and who will we love so deeply during these days? This photography project started in Florence, Italy when Tiana Kai Madera (@tianapix) began taking photos of nonni during a sad time when her nonno was slowly slipping away. He passed away a few months after she began the project, so Tiana keeps his memory alive by hunting down all the nonni in Italy and on her travels. She currently lives in the United States, and has been featured by Instagram and other international publications and websites. Nothing makes her happier than to read the sweet comments of the many @notmynonni fans; it's a true labor of love.
—
Jonatan Rius Torné
Tortosa, Tarragona
Freelance photographer, very successful on Instagram. He has been collaborating with many marketing campaigns for international companies like Sony, Bombay Sapphire, Martini, Alfa Romeo and many more… He has participated several times as influencer for tourist agencies to promote different destinations. The prestigious premium lens brand, Carl ZEISS has named him Brand Ambassador on Instagram for Spain.
—
Juan Sandoval
Tinaco, Venezuela
"I am a boy who loves photography and it has been a therapy for me for the last two years. I was going through a very sad moment and photography was a beautiful hobby that made me very happy and gave me the freedom to express everything I felt inside me. Photography, for me, is more than just photos and to look good in front of the camera, it is to express everything that is kept in the heart and to keep beautiful moments in one place. This is photography for me: The most beautiful way to express everything you want with yourself and with other people."
—
Koi Samsa
Madrid, Spain 
Koi Samsa is the pseudonym of a designer and apprentice of calligraphy. Her professional activity in daily life is as a digital strategist and talent manager in the field of Youtube and Social Networks. Her Instagram has been dedicated for a year now, to lettering and calligraphy. In it, words, written or drawn, create a graphic universe of its own that jumps from paper to screen, from ink to watercolor and from pixel to photogram, all combined with interesting and funny Instagram Stories.
—
Renzo Grande
New York, USA
Renzo Grande is a photographer who turns his passion and sensitivity in documenting everyday street stories. Originally from Lima – Peru and currently based in New York City, he began his visual documentation in 2010. Introverted and with very few words, Renzo uses photography as a form of personal therapy. He is also the founder of the "24 Hour Project", a worldwide documentary project which brings together participants from different cities around the world in order to share the most human aspect of their own cities by sharing a photo every hour for 24 hours on Instagram.
—
Tekla Evelina Severin
Stockholm, Sweden
Born 1981 in Gävle, Sweden. Currently based in Stockholm, Sweden. Interior architect working in the multidisciplinary field of set design, interior and photography. Colour, angle, pattern-lover. "It´s never about the object itself for me; but always about if it's an interesting angle (or not)."
—
Thiago Cavalcanti
Ipojuca, Brasil
"The most fun thing is that my office is a big and beautiful reef barrier, and I see beautiful nature every day. I was a big challenge to start to work with underwater photography. I'm a underwater photographer since 2009, and I learned all the techniques 8 years ago by myself and that was not easy. But I'm so happy I got into this, because working and seeing nature like every day was the best choice in my life. The beach where I usually take my pictures is Porto de Galinhas."
—
Umit Savas
Istanbul, Turkey
An instagramer who is madly in love with the city she lives in. Photography became her biggest passion after she purchased her first iPhone and downloaded Instagram five years ago. She loves to take travel, food, art and still life photos. Attended many international #emptymuseum projects, portrait project #geographyofyouth and #24hourproject. Selected as "local lens" of Istanbul by Instagram and some of her photos are published on magazines like Vogue & GQ.
—
Valerié Derome-Massé
Quebec, Canada
Valérie Derome-Massé is a 26 year old visual storyteller, photographer and mountain lover. Her focus lies primarily with landscape, wildlife and lifestyle photography. While her goal is to seek the uniqueness in things, Valérie creates unexpected images using scenic elements of nature.
Cant wait to see you at the Gallery!