Instagramers Manchester First Instameet worldwide recap
.
Our Instagramers Manchester local group "body and soul" sent us his recap of Manchester first Instameet worldwide Instameet. Here´s the story.
.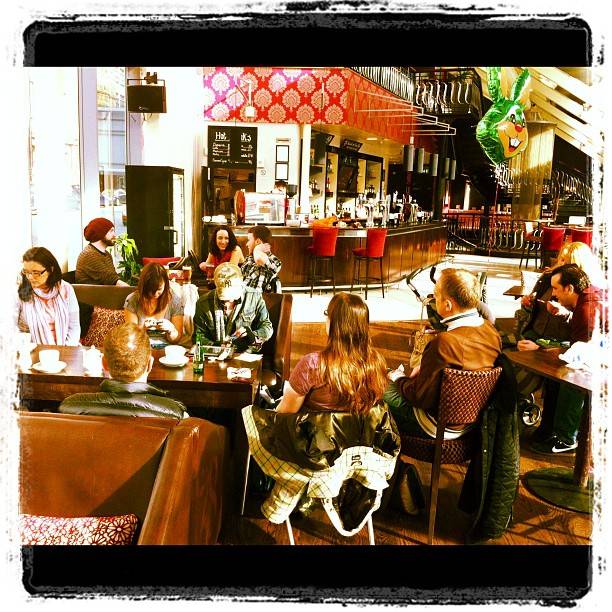 In the week leading up to the meet we had a few express their regret at not being able to make it. So we were unsure how many people would turn up. That the sensation all the local group probably feel before their first instameets ever.
When Sunday arrived my girlfriend @emmajanie  and I arrived in Piccadilly gardens with our homemade igers clipboard and badge! It took a while for people to arrive but within half an hour we had almost 20 people ready to start the walk.
.
I had already planned a walk and everyone was happy enough for me to just lead us around town. We walked at a very slow pace, which gave everybody a chance to introduce ourselves to each other and still take the odd photo.
.
About half way round our walk we stumbled upon an Irish parade that was going on in Manchester on that sunday. This provided a good photo opportunity so we stood and watched that go by. A nice surprise that added to the overall experience of the day.
.
As the walk went on our group had split a little and many of our igers were running pretty low on battery so I decided that was the point to have a pit stop and a cup of coffee (or tea?!) I posted a picture of where we were and all but a couple of people found their way back to the party. It was really nice to sit down with everyone and have a proper chat. We all seemed to get on really well, it was great bunch of people who all shared the same passion.
.
After a good chat and a warm up we all went our separate ways, but not before everyone had expressed their gratitude to me for organising the day. The response after the event has been just as good. Everyone thoroughly enjoyed the day and cannot wait for the next one.
You can check the hashtag for the day #mcr_walk_01  and you can view over 200 photos on instagram taken just on our walk. We also created an album on inkstagram (ink361) you can access that here.
I just want to say thank you to you and all at instagramers for giving me the chance to represent Manchester and be a part of this fantastic instagram community.
.
@danepollard from @IgersMcr (check here the Instagramers Manchester FanPage)