Instagramers Suisse and bmibaby mySwitzerland Guide.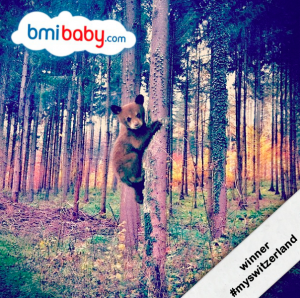 Since our partner bmibaby launched in its Instagram feed in July, they have been sharing images with us from destination tips to news and pictures of their aircraft on journeys around Europe.
.
We are running a series of contests and sharing beautiful images of some of their destinations across Europe in collaboration with the airplane company bmibaby and we have now received a total of over 18,000 images which is incredible
Images were collected from our recent competitions for Italy, Germany, Holland and Switzerland like hashtags#mygermany #miaitalia #myLondon and #MySwitzerland with ourInstagramers Germany, Instagramers Holland, Instagramers Suisse and instagramers Italy local groups.
With more than 18,000 images being shared within the communities so far, these  contests were big success iin Instagram
About #Myswitzerland contest results and after the final count, @kniyma_gf's finally won the challenge with an amazing image of a bear and won a pair of flights on the bmibaby network! Congrats!
.
Today we are glad to announce the launch of the Switzerland Guide at bmibaby blog !
Follow us and check our bmibaby stream and you will have soon news about new contests and destinations!
Let´s instagram the world!
@philgonzalez
.