Instashapes, the first italian collective exhibition of 2012.
.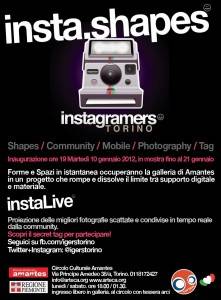 Instagramers Torino
presents the first collective exhibition of the year. 
Shapes and Spaces
in instant mobile photography will occupy the walls of
Amantes Gallery
from 
10 January 2012 till 21 January 2012.
The event will exhibit a selection of 20×20 pics by Instagramers @tonick @franzoart @duendeturin and@alesangiorgio for a new collaboration project born in the IgersTorino Community.
Amantes Gallery:
Via Principe Amedeo 38/a, Torino
lunedì / sabato ore 18/1.30
Free entry in the gallery, with ARCI card in the club.
You can join the event on
Facebook
o get m
ore info following our Facebook Fan Page at
Instagramers Torino
or following @tonick in Instagram and Twitter.
Remember you can join IgersTorino by tagging your Instagram pics with
#igerstorino
(7000+ pics til today!) and supporting 
Instagramers Italy
Instalive!
All related best pics of the IgerTorino community will be projected in realtime during the expo at the Amantes and online (page url will be activated at the opening date). Join this brand new project and find the secret Tag by following IgersTorino.
¿What's the Instalive app?
.
Instalive is a a brand new web and mobile app to admin and display tagged Instagram pictures, really useful to run online/offline contests or live events.
It's realtime administration/moderation of user generated pictures taken by the community, in a simple but effective streaming slideshow. No refreshing need, all automatic!
–
@igersTorino