JewelGram; Unique jewels with your own Instagram pictures, win one now!
.
.
"Great ideas were born, while sharing a bottle of Prosecco di Valdobbiadene"
.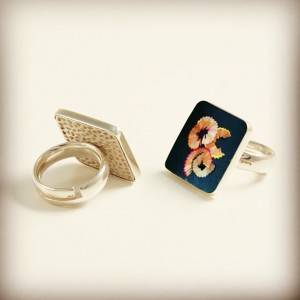 Some months ago,
two Instagram-addict friends
, while sharing a bottle of "Prosecco di Valdobbiadene", were talking about how great it would be to have
unique jewels with Instagram pictures
printed on them. It happens that these Instagram-addict friends are a jewelry designer and an electronic engineer, software programmer. Put that together and… some months later
JewelGram
was born.
.
.
Jewelgram explained in detail
The idea is simple: your favourite Instagram pictures printed on rings and pendants.
.
Michele Marzotto, jewelry designer and owner of
Atelier Forma Design
, designs the jewels using simple and modern shapes to obtain 
comfortable rings and pendants
capable to host
pictures in high resolution
(600 dpi).
Gianpiero Riva
, electronic engineer and software programmer, managed the development of the site
JewelGram
 where you can see the entire collection of
rings and pendants made with plastic materials, but also in silver and gold.
The pictures are printed with the dye-sublimation printing technique that provides a great photographic-like result on the surface of the jewels. At the moment
Jewelgram
provides for purchasing
Inkwell Rings (silver rings), Kelvin Rings (gold rings), Inkwell Pendants (silver pendants) and Kelvin Pendants (gold pendants)
but in December it will be possible to pre-order any jewel already shown on the website.
.
Win a JewelGram ring!

Accessing the "Play" section on the JewelGram website, it's possible to join the
JewelGram Photo-challenge, a monthly photo-selection that gives you the chance to win a stunning silver JewelGram Ring
. It's very simple:
clicking on "Play"
the site will ask you to "Sign in with your Instagram account". Then
choose one of your favourite pictures
that will be used to compose the MagicPic, a simulation of a JewelGram ring with your picture printed on it. You will receive the MagicPic via email; post it on your Instagram feed and
tag it with #jewelgram
.
Every month the JewelGram team selects the best MagicPost posted on Instagram, whose author will win a Inkwell silver Ring!
Last but not least, all the jewels are produced in Venice by Venetian Master Goldsmiths and prices start from 14.99$ with delivery cost included worldwide.
.
.
More info
JewelGram on Instagram | Jewelgram website | Twitter
.
No doubt about it… All I want for Christmas is….. a JewelGram ring!!
@kimberlysunster