Join the Instagramers Italia National Instameet 5 in Milan next week end!
Next June 26th, 27th and 28th will take place the 5th edition of the National Italian Instameet called #InstameetItalia5.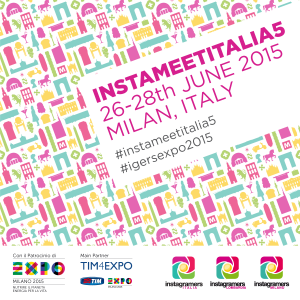 After 2011, first edition 4 years ago,  the city of Milan will host once again the annual event of Instagramers Italia. 
This fifth edition of
Instagramers Italia Instameet National ( @Igersitalia
) is a real challenge. It will take place during
EXPO MILANO 2015
, the World Expo held in
Milan
this year from
May 1 to October 31
and hosting over
140 nations
 that will participate and show the whole world their excellence.
InstameetItalia5
, "the first intercontinental Instameet" will take place 
on 26-27-28 June in Milan
and will host
17 special guests from around the world coming from 10 different countries: USA, Argentina, South Africa, Turkey, The Netherlands, France, Germany, Switzerland, Spain and of course from all over Italy.  There will be representatives of the more than 60 Italian communities of @Igersitalia and more than 400 attendants!
Instameetitalia5
is the official national instameet of the Italian Instagramers and it's also a great opportunity to meet old friends and new Igers from all over the world. Join us!!
The program is available here  and will be constantly updated. Organizers doesn't want to reveal all details and surprises now! Anyway visit the website and if you plan to go to Milan inform our team! 
.
A new edition of Instagramers Awards in Italia.
.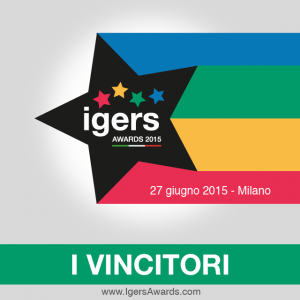 The Instagramers or
IgersAwards
Awards are a new initiative of the
Association Igersitalia.
Main Objective of the Igers Awards
is to discover and reward
the most deserving profiles on Instagram
 and not the individual ones as often happens in the challenge and the popular contest. Instagramers Awards Italia Winners will be elected and announced in Milan too in a real fun ceremony.
Igers Awards Categories are:
Brands: companies and agencies;
Blogger: the best blogger on instagram;
Community: groups, fan clubs;
Art: for accounts focused on art, culture, show;
Women's Fashion: clothing, personal care, dedicated to women
Men's Fashion: reality-oriented menswear;
Food: restaurants, but also manufacturers foodblogger;
Photography: reward the best photo gallery;
Entertainment: radio, TV series, but also the channel YouTube and internetainment;
Institutional organizations, associations;
News: news, journalism, investigations, complaint;
Woman character: the most famous of her Instagram;
Men character: the best known him on Instagram;
Pet: manufacturers, retailers, farmers as well as profiles of animals;
Sport: teams, athletes where the sport is the protagonist of the photo stream;
Travel / tourism documentation of the territory by tourism bodies, airlines, tour operators.
Winners of each category will be invited to attend the event which will be held June 27 during our Instameet Italy 5. Please join our awards ceremony at Europ Assistance Italy venue in Piazza Cordusio 2 .
Instagramers Awards
is an initiative of the Association Igersitalia. For more information, visit our site: 
igersawards.com
@igers