Junes Festival in Brazil with IgersBrasil and Embratur on Instagram
.
Have you ever heard about the June Festival?

.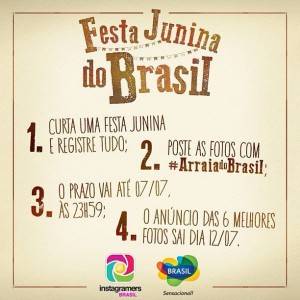 June Festivals are a season of festivities that always occur in Brazil in the month of June, with very different habits from any other Brazilian festival, with each region of the country adding its own typical characteristic to the celebrations. Now, imagine the challenge of explaining these parties to people around the world!
 .
With this in mind, Instituto Brasileiro de Turismo – EMBRATUR (Brazilian Tourism Institute) and @IgersBrasil undertook a joint action to capture images of these festivities throughout the country. Who better than the Brazilians themselves to demonstrate what makes the June Festivals in their cities so special?
 .
With the support of Igers from different cities and states, instagramers were encouraged to take photos of 6 different themes: Decoration and tradition, Dance, Cuisine, Music, Games and the Biggest parties across Brazil. As an incentive, the 6 best photos contributors received an exclusive book of photographs of Brazil, published by EMBRATUR, which is not available on stores.
.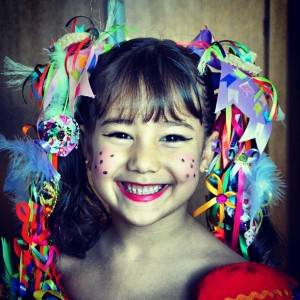 Promotional images were created using icons of June Festivals, in addition to texts referring to certain traditions and typical customs, such as quadrille dancing, performed in large groups split in two, and in which a narrator gives "orders" to be followed by the dancers.
.
Photo on the right side – Text Image : "In the event of a broken bridge, a snake in flight or sudden downpour, take a photo and use the hash tag #ArraiaDoBrasil".
After the launch, other images were published by Intagramers throughout the country. One showed how to take part in the contest, others served as reminders or showed certain highlighted images posted by instagramers.
.
The action ran for 23 days and we were expecting around 1,000 photos. However, Brazilians embraced the cause and the goal was reached in just 10 days! More than 1,787 photos were posted, a result almost 80% more than the better forecast!
.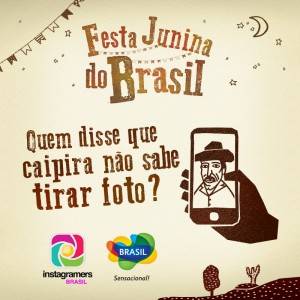 The success was so expressive that EMBRATUR created an image created a special image to thanks the contributors!
.
"Who said country folk don't know how to take a photo?" (June Festivals have a myriad of customs and characteristics of festivities from cities in Brazil's countryside, even those that occur in major metropolises, thus the use of the term country folk).
The image was accompanied by a thank you text from EMBRATUR: "EMBRATUR kindly thanks all those who participated in the action #ArraiaDoBrasil". On July 12, the names of the participants with the 6 best photos will be announced, each winning a book of photographs of Brazil. Stay connected."
.
All winners were informed through the profile IgersBrasil on Instagram, posting an image with the winning photographs.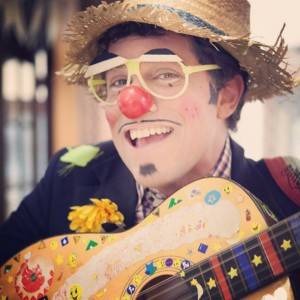 All participating photos are now part of an app recently launched by the fan page Visit Brasil, EMBRATUR's online tool that promotes Brazilian tourism destinations abroad.  Thus, by means of photos on Instagram, Brazilians themselves demonstrate exactly what the June Festivals are all about.
. 
Are you curious about this Brazilian festive season? Want to find out more? Well then access the app right now: https://on.fb.me/12fjUey
.
@igersbrasil