London Instagramers visits Venezia with InstameetExchange.
.
On Friday 11 November four excited London Instagramers made their way to East Midlands airport to catch the 10.15 bmibaby flight to Venice for the return leg of the first ever Instameet Exchange with Italian Instagramers.
We were looking forward to meeting our new Italian friends who we had met for the first time the month before.  We travelled light, finding that the 10kg hand luggage allowance was more than adequate for our weekend away.  Even though it was an early start to the day, we still managed to take plenty of photographs with our iPhones and posted them on Instagram using the #bmibabygram (check here) and #instameetexchange (check here) hashtags.
On arriving at Marco Polo airport we opted for the 2-day travel card for 28 Euros each, which covered us for all bus and vaporetto (water bus) trips throughout our stay. We found the bus stop we needed just outside the terminal exit and waited just a few minutes for the 15 bus that would take us all the way to our hotel, the Best Western Bologna by Mestre railway station.
Wasting no time to visit the famous sights of the city, we quickly unpacked and walked across the road to catch the number 2 bus, which took us to the Piazzale Roma bus station, right by the Grand Canal.  We crossed the Calatrava Bridge and entered another world!
.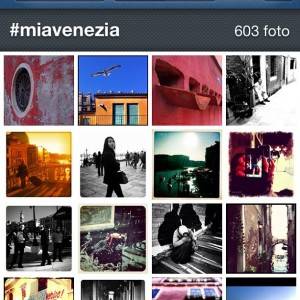 We wasted no time in capturing some of the amazing views with our iPhones, ready to be uploaded to Instagram using the #myvenice (check here) hashtag.  After losing our way around the narrow streets, and a few photo opportunities later, we found a bar and sat down to welcome beers!  We were entertained by children banging pot lids with spoons and singing enthusiastically.  The cafe owner gave them sweets, much like Trick or Treat, but we never did find out what this was all about.
Call us crazy, but the next day we decided to get up at 5am in an attempt to catch the sunrise over the lagoon at St Mark's Square.  We had already established that the sun would rise at 7.05am so we set off early on our trusty number 2 bus and upon reaching the bus station jumped on the nearest Vaporetto that was heading in the right direction.
It was pretty dark when we started out but as we got closer the sky began to lighten, first glowing beautiful pinks and oranges.  As the Vaporetto crisscrossed the Grand Canal we weren't sure whether we would make it in time, but with 2 minutes to spare we stood at the water's edge and joined rows of fellow photographers with their big cameras on tripods and were left speechless by the sight of the sun making its first appearance across the water, a vision of glowing red.  Needless to say, we captured the amazing image several times as the sun rose in the distance.
After a walk round an almost deserted St Mark's Square and a quick coffee we headed back to catch breakfast at our hotel, to be ready for the main reason for our trip, the Instameet Exchange.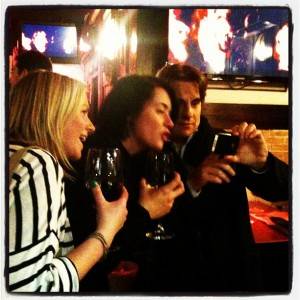 Our rendezvous point for the Instameet Exchange was a cafe bar a street away from the Rialto Bridge and after getting lost again, we finally arrived to an amazing welcome from our host Ilaria (aka @ilarysgrill @instagramers Italy local ManIger) who wasted no time in organising us all a glass of Spritz, the famous Venetian aperitif.
After the introductions and the obligatory group photo call we set off on our walk around the vibrant streets of Venice taking in the busy fish market.  We stopped for lunch consisting of sparkling rose wine, Panini and Polpetta meatballs.  Our Venetian hosts at veneziadavivere.com then arranged for a fascinating insight into the restoration work on the Rialto Bridge with a talk by one of the five last remaining stone masons with the necessary skills required to carry out the specialised work.
Thankfully we had Titti (aka @drunkenbones in IG from @IgersModena) on hand to translate for us!
We continued our Photowalk on to St Mark's Square, where we found far more people and pigeons than we had encountered those few hours before at daybreak.  Our hosts had arranged for a tour of the beautiful Doges Palace (Palazzo Ducale) taking in views of the lagoon through the ornate arches.
Many photos later, including some glorious shots of the sun going down on the other side of the lagoon, we made our way to the famous Peggy Guggenheim gallery to view works from world renowned artists such as Mondrian and Pollock.  With the night time drawing in and the temperature dropping, it was also a great place to grab a coffee and warm up.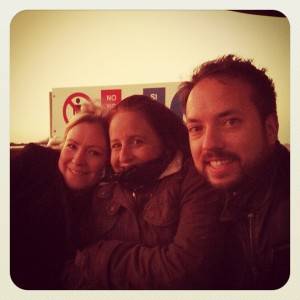 After all the sightseeing it was time to relax, so we headed towards a nearby bar where our hosts had organized prizes for a photo competition for any shots posted to Instagram with the #miavenezia hashtag.  Prizes included a beautiful leather and white gold bracelet designed and kindly donated by Michele of Formadesign.net, which was deservedly won by London Instagramer Dave Chapman. (@davechapman)
Taking in a couple more local bars we ended up at a pizza restaurant (where else!) for some extremely large and beautifully thin pizza, accompanied by plenty of beer!  A perfect end to an amazing day!
The next day we decided to treat ourselves to a bit of a lie in and after breakfast we took a walk around Mestre station and the local streets and shops, including a nearby shop full of beautiful Murano glass where we purchased gifts for our friends and families back home.
Heading back to the airport we reflected on our journey home that we had packed such a lot in to our short weekend, had met some lovely people and visited beautiful places at the Instameet Exchange and had witnessed the most amazing sunrise.
And everything captured on our iPhones and shared with the world through Instagram.
.
@Miss_Jess and @chelseadebs from our @IgersLondon team
.