MySpain instagram contest – Win flights with Bmibaby

.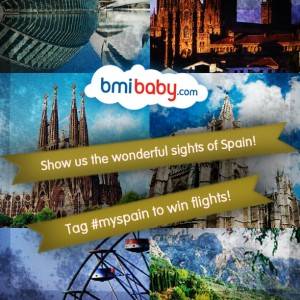 bmibaby and Instagramers Network launching their fifth Instagram competition, this time focused on the beautiful location of Spain.
.
Over the 6 months we have enjoyed fantastic images from a variety of European bmibaby destinations, with over 20,000 images submitted by our Igers including Germany, Italy, Holland and most recently, Switzerland.
.


Once again we're asking you to use Instagram to capture Spain in all its glory. 

.

Post and tag your favourite #myspain images. Everyone knows the tourist snaps of Spain, but we want to see the sights from your point of view. Show us the culture, people, landmarks, food and traditions!

.
We're very grateful to be working once again with bmibaby and in this case specifically @IGersMadrid will be the responsible for giving the shout out and promote the contest in the spanish network. People from abroad can participate of course but we are also looking forward to seeing images shared by Spanish residents – who of course know more about the country than anyone else!

.

How do I enter the bmibaby Instagram competition?

.
Upload your favourite pictures, tagging them with #myspain and #bmibabygram – it's as easy at that!

.
How will the bmibaby Instagram competition work?

.
Each week, for three weeks, we will pick a picture of #Myspain that's an outstanding shot.  We will re-post the images from the bmibaby Instagram feed to share with all of our followers. In the fourth week, after three finalists have been chosen, one will be picked through a public vote to win a pair of flights!

.

And that's not all – at the end of the month as a thank you to all entrants, we will produce a fantastic guide to Spain using everybody's pictures. By tagging your picture with #myspain, consent is given to bmibaby use your Instagram image in a crowd-sourced guide to Spain like the one we did before for other countries.

These quirky and beautiful shots will be compiled into an album of Spanish delights and shared with bmibaby fans across our social networks!

.

@philgonzalez

.

More info at bmibaby blog.