Ness Integrates with Instagram, the best restaurant tips through Instagram
.
Ness is a search engine for restaurants based on your personal tastes and announced its integration with Instagram, making over 2,000,000 beautiful photos of restaurants available within Ness via the Instagram API.
.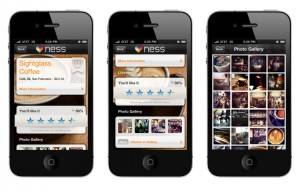 Ness users can let their personalized Likeness Score guide them to restaurants Ness thinks they'll love, then tap the Photo Gallery to quickly browse Instagram photos associated with a particular restaurant.
.
"Ness wants to help people easily find places they'll love" said Corey Reese, Founder and CEO of Ness Computing.
.
"And Instagram wants to help developers find innovative ways to browse their ever-growing volume of photos. By partnering together, our users can now get a real sense for the atmosphere and popular dishes at a restaurant that, when combined with our Likeness Score, allow them to make a confident decision about where to eat, all from one app."
.
Instead of relying on reviews from strangers, Ness helps you find great restaurants by learning what you like as you rate your dining experiences. Ness then provides recommendations along with a personalized Likeness Score that predicts how much you'll like each one. And when users connect to Facebook and Foursquare via Ness, they can also see places their friends enjoy.
The result is a quick and accurate way to find just the right restaurant to dine at.
Ness has already been featured by Apple as a "New and Noteworthy" App, and recognized by Eater as "a handy restaurant recommendation tool." The Ness App is available for free from the App Store or at www.likeness.com/app.
.
If you want to know more about Ness Computing, you can contact Marissa Louie (408) 718-1396 or mail to press@likeness.com or follow on Twitter @LikeNess
.
@igers