Quad Lock's iPhone products, cases and tripod adapters
.
Now available!
.
Quad Lock Cases
The Quad Lock™ Case is a safe and easy mounting solution that mounts to almost any surface and conveniently positions your mobile device in portrait or landscape mode so you can easily watch movies, read the latest news or use apps, hands free.
The Quad Lock™ Case Mount is ultra slim and made from tough polycarbonate plastic to help protect the back of the iPhone during everyday use. The  case's  beauty lies in its simplicity. It includes a built-in holder that snaps securely on to any of the Quad Lock™ Mounts.
Mounts that are currently available include:
ST Mount, which is perfect for the rigorous applications such as cycling
Pro Mount which has an extra level of security with a spring locking collar that is pushed down to unlock the case.
"Most car, wall, and bike mounts require you to remove your phone from your everyday case, insert it into another cradle system, and then remove it from the cradle and  replace  your  case  when  you're  done. The alternatives are the hold-anything style cradles that fit  nothing well,"  say Chris Peters and Rob Ward of Annex Products. "If  you're  like  us, you use your iPhone as a GPS while driving and boating, a trip computer while cycling, a list while shopping, a score card while golfing, an alarm clock while sleeping, a recipe book while cooking, a calendar while at the office and we even sometimes make a phone  call. The Quad Lock™ makes all of these tasks easier by providing an easy-to-use."
Quad Lock™ Tripod Adapter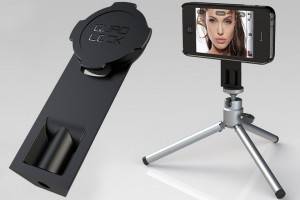 The Quad Lock™ Tripod Adapter connects a Quad Lock™ case equipped phone, or just about anything else to a camera tripod, allowing you to take beautiful still photos and smooth motion video. The Quad Lock™ Tripod Adapter is fitted with an industry standard 1/4" 20 female thread so you can attach it to most tripods, monopods and many other camera accessories.
The Quad Lock™ Tripod Adapter is the perfect companion for any mobile photographer who is looking to capture that perfect shot from their mobile device. It's easy to attach and remove and allows you to mount your mobile device in landscape or portrait orientation with just a simple twist of the wrist.
The Quad Lock™ Mounting System (Patent Pending) is the slimmest and fastest mounting system on the market. The Tripod Adapter is designed to work in conjunction with The Quad Lock™ Case for iPhone 4/4s and the Quad Lock™ Universal Adaptor for all other mobile devices.
"The new Quad Lock Tripod Adaptor for iPhone is super secure and allows one to attached their phone with just a simple twist".

.
About Annex Products
Annex Products founded by Rob Ward and Chris Peters from Melbourne, Australia, two mates who like to make things happen, designed and developed the Opena® case. Chris is an Industrial Designer with a passion for good design and Rob is an idea's man with a knack for online sales and marketing. Together they combined their powers to make the Opena® case a reality. Originally launched on the crowd funding site Kickstarter in June 2011 it received huge interest and quickly jumped to 50% of funding goal in its first week. Word got out and it wasn't long before the Opena® was showing up on design and gadget blogs in Australia, America, France, Japan, and Russia! 100% funding was achieved on Monday the 27th of June 2011 and the project finished on the 8th of July reaching 188% of the set funding goal. With the success of the Opena under their belt they formed Annex Products. The Quad  Lock™  is their  second product.
.
More information
For more information about Annex Products, visit the website | To purchase the products, click here | Follow Quad Lock on Twitter 
Using your iPhone everywhere, has never been so easy!
@kimberlysunster