Second Instagramers Italia Instameet next September, 22-23 2012
.
Turin is the chosen city for the second national gathering of Instagramers Italy, national community with over 35.000 followers, thanks to its 26 local groups throughout the national territory.
.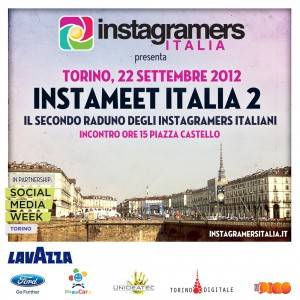 The Instameet event is scheduled for September 22, in the central square "Piazza Castello" at 3 pm from where the Instawalk will start, a free walk with a photo reportage of the participants from all over Italy. This event it's the preview event of Social Media Week in Turin, that will start on 25th September.
After the walk, return to IGERSITALIA HOME @ the Jazz Club Torino at 30 Giolitti street (Piazzale Valdo Fusi) at 5.30 pm.
Here we'll have the unfailing "Insta-aperitif" preceded by greetings from @philgonzalez, Philippe Gonzalez, Madrid, creator of the Instagramers community, from Ilaria Barbotti (founder & community manager Instagramers Italy) and from Nicola Pasianot (founder Instagramers Turin – Instagramers Italy Team).
.
Some of the europeans community managers will be with us too, like Instagramers London, Instagramers Madrid, Instagramers France and will assist to our creative project with Lavazza.
The day of September 22 will finish with the presentation of the creative project of Lavazza and its agency, with support of Instagramers Italia.
.
We will launch at the gathering of the italians Instagramers, the new edition of 2013 of its famous Calendar.
The project will be a work of art that in the same time will be social, opening itself to the contributions of hundreds enthusiast of photography and the new digital arts. This work will be unique in its genre and above all it will start off in Italy, but it will have an European involvement.  All the details will be officially announced at IGERSITALIA HOME.
.
The Instameet will continue the next day (September 23) at IGERSITALIA HOME from 10.30 am.
The event will be dedicated to the Instagram fans that will have the opportunity to talk about their relation with the famous social network mobile, that by now counts over 100 millions of users in the world.
For those who won't be able to attend, they will have the possibility to follow the feed of the photos taken by the participants, through the #hashtag that will be announced on on our social network channels on the 22nd of September 2012. (follow @igersitalia + @igerstorino stream)
Thanks to Ford, 10 Instagramers will tell the story of their trip from Milan to Turin, creating the first experience of Social Media Drive and thanks to the media partnership with BlaBlaCar that will promote the conscious and sustainable use of transportation.
.
All of you are invited! If you will be in Italy, please register here https://instameetitaliatorino.eventbrite.it/
.
Thanks to:
@igersitalia staff
Press Releases of the event: