Show us your thirty at #Mopa30 with Instagramers Mexico
.
MOPA – LA TENTACION TJ-SD – IGERSMEXICO – EYEEM
 .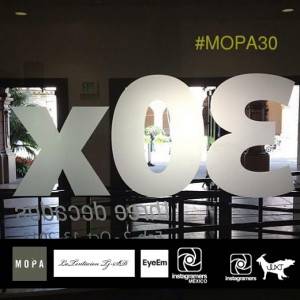 Mobile photography in Mexico has been expanding and growing at an amazing rate during the last few months, mainly due to its use in all of the social networks available.
.
On June 16, 2012 a never-seen before event took place in Guadalajara, Mexico: "The Shooting Project". This event gathered well-known local photographers to do live performances to showcase their personal work style during the opening party, portraying themes such as 'Duality', 'Animal vs Human', 'Geometrik', 'Made in the Streets' and 'Neon Colors'.
.
A special shoot also took place by renown photographer Josue Castro with the theme "Got Tattoos?"
.
During the event preparations, a national mobile photography invitation was made through Instagram with the hashtag #mexigers_retrato, (direct coordination with IgersMexico), where more than 600 pictures were tagged nationwide.
The exhibition of forty of these portraits were curated by Josue Castro, who invited Deborah Klochko to give a conference about the history of fashion photography.
Deborah Klochko gave IgersMexico her seal of approval on the overall coordination and project, and from then on has been following close by the development of mobile photography and has even attended many events hosted by IgersMexico, IgersGuadalajara, IgersTijuana and La Tentación- the main Mobile Photography promoters in Mexico.
To this day, Deborah uses her smartphone to photograph and classify whatever catches her eye, and is a big Mobile Photography fan.
In 1983, MOPA opened its doors with not even one photo to show, so it extended an invitation to society to donate one photograph, which was then hung on the museum's wall. This is how MOPA's photographic collection and heritage has grown, and today, celebrates their thirtieth anniversary.
.
To celebrate these thirty years, Deborah and her team have decided to include mobile photography and invited "La Tentación TJ" and the Mexigers community (IgersMexico, IgersGuadalajara, IgersTijuana) to coordinate and invite through mobile photography apps EyeEm and Instagram to upload photos allusive to MOPA's 30th birthday under tag #mopa30
.
@IgersMexico