The power of the image
We all know that an image is a terrific tool to support any kind of information because visual clues help us receive and remember better. The results of visual learning makes complete sense when you consider that our brain is basically an image processor, not a word processor. In fact, the part of the brain used to process words is very small compared to the part that processes images (much of our sensory cortex is devoted to vision). The words are abstract and difficult to retain, while images are concrete and therefore easier to remember.
We are primarily visual beings. We are biologically programmed to perceive the world in a visual way. We only have to look back to our ancestors: the first written submissions were based on images. Hence, today, 90% of the information we pass on to our brain is visual.
We process images up to 60,000 times faster than text. When we say that that a picture is worth a thousand words, we are not exaggerating. 40% of users react better to a content format image than to plaintext.
We have more ability to retain the visual content than any other form of information. We remember up to 80% of what we see, while only 20% of what we read, or 10% of what we hear.
The online content that includes visual information register better results. Such as a 84% increase in visits, 94% more clicks, or 40 times more shares. But his greatest achievement is recorded in the percentage of referential links getting up to a 567% increase. This is one of the reasons that explains the success of infographics.
Their impact on social networks is also notable. Those tweets that include an image are capable of generating more than 36% RT, against 16% for articles and 9% for videos.
Let's talk about Instagram…
Instagram is a social network with more than 300 million people that capture and share pictures of their daily lives and is on the rise among young people. According to this article in El Pais, consultant Piper Jaffray released a report based on a survey of 5,000 US teenagers and the growth of this network is evident among them.
With this data do we have to start thinking about Instagram as a powerful tool. According to Ángela Villarejo (@avillarejo) some of the keys to getting the most out are:
Post regularly to keep followers engaged.
Pictures are 26% more attractive than videos in Instagram.
Pictures with a person works 32% better than images that do not show people.
Don't use more than 5 hashtags to avoid saturating/irrelevant information to the user.
Educational applications of Instagram
Images are no longer a simple illustration of a text. They are becoming, in many cases, the learning itself. Pictures offer a wide range of educational possibilities:
Can be used with children or people who do not know the language, the elderly, etc. it uses the universal language of "image as a vehicle for access to meaning"
It is a practical resource that, with even more new technologies, it is easy and quick to get and transmit.
Enables the possibility of creation and expression of information, emotions, etc.
It helps to understand/ strengthen information and internalize the concepts in a quicker way.
We leave you 5 Ideas (in spanish) to use Instagram on education, they are some proposals, but we can get much more out if we think and share: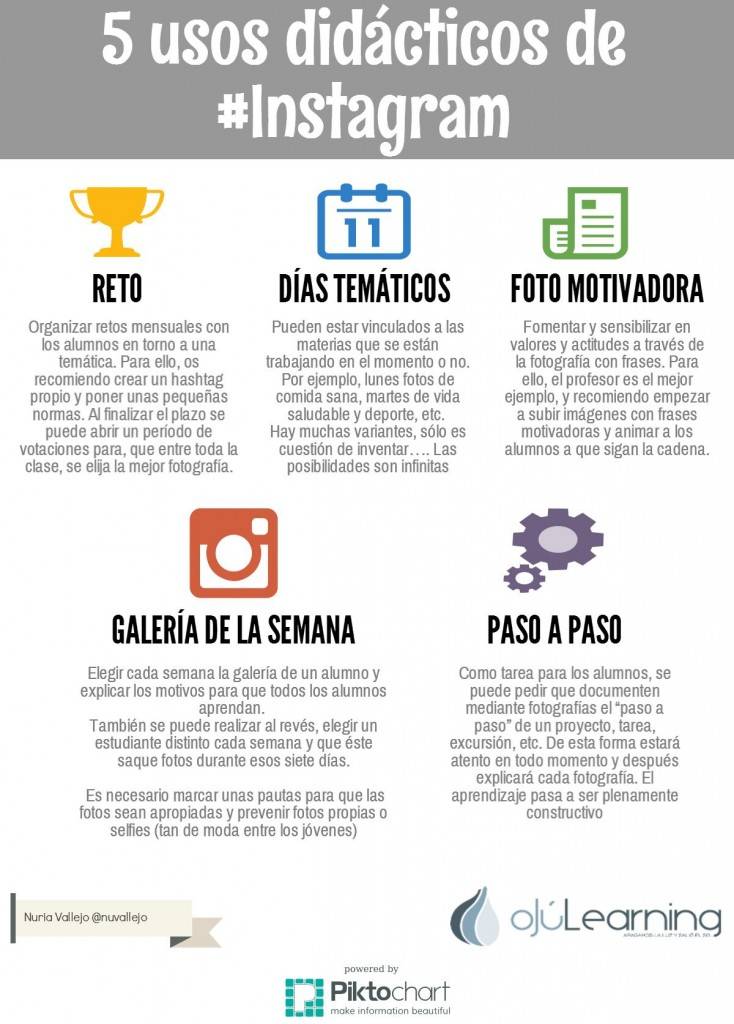 Usage examples:
– Challenge #Levanta2015 of @igersSevilla
– #IgersMap of some of @igersSpain communities
Original post by Nuria Vallejo (@nuvallejo).