We are 25 million users on Instagram
.
Although the information has not been confirmed by Instagram, it appears the largest social network 100% mobile has surpassed 25 million users.
.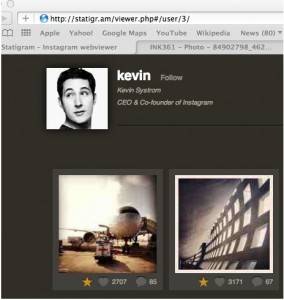 Last week, Dirk Singer, director of @ TheRabbitagency, a company specialized in social media (and responsible of our program Bmibaby # InstameetExchange) affirmed in his blog that our beloved Instagram app has recently passed the magic number of 25 million users.
Singer says that while Foursquare recently reached 22 million users, Instagram could have reached yet 25 million.
Dirk bases its analysis on two web browser tools using Instagram Api, the two websites of our friends and partners, Ink361 Statigram and their urls info. This information could reveal us accurately the number of users registered at Instagram.
For example, Kevin Systrom, co-founder of Instagram has "User ID" number 3 and the last registered IDs are already over 25 million users.
The latest official figures announced by Instagram in last December at the international conference LeWeb in Paris (see video), informed registers had surpassed 15 million users. Since then, we had not heard anything, but we could easily expect higher figures (as rate of new registers was around 100,000 every two days or more)
According to Dirk's comments, it seems there is no ID numbers 1 or 2 (although I personally think they are the numbers initially reserved for their own accounts and  @Instagram and @InstagramTeam) the ID account number three is @ Kevin (Systrom) and Number 4 is @ Mikeyk, (Mike Krieger) co-founder of the company.
After some research, we can easily imagine the really first steps of the application, the beta-testing with friends and brothers… The number 12 is @ Kaitlyn (Trigger) is Mikey´s girlfriend, number 14 Stéfanie Krieger @ stefkrieger his sister, 20 is @ Shayne (Instagram engineer) and funny thing, the number 25,000,000 is a private account!
.
So, there is no doubt. We are 25 million!
@ Philgonzalez  (user number: 943978 )