We Are Juxt and Olson Kundig Architects present "Be Mobile: Fundraiser for Food Lifeline"
..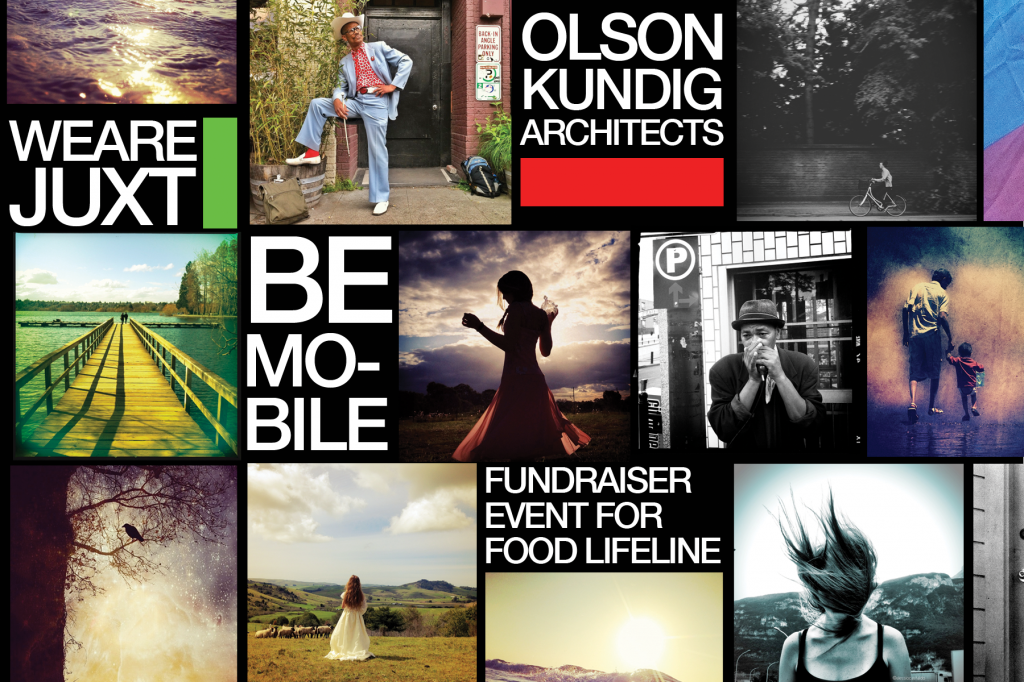 .
MOBILE PHOTOGRAHY GALLERY EXHIBIT FUNDRAISER ANNOUNCEMENT
 Thursday, July 19, 2012, 5:30PM-7:30PM
Olson Kundig Architects 406 Occidental Avenue, Seattle, WA 98104
Ticket Information: FREE on Brown Paper Tickets
We Are Juxt (Juxt) and Olson Kundig Architects (OKA) present "Be Mobile: Fundraiser for Food Lifeline"
One Night Event Only July 19, 2012 Juxt and OKA are presenting a showcase of mobile device photographers and artists from around the world.
A gallery of photography produced on mobile devices will be on exhibition on July 19, 2012 beginning at 5:30 PM, with live music and a wine tasting until 7:30 PM, to raise money for the Food Lifeline Food Frenzy 2012 campaign to feed local hungry children when school meal programs are closed. The showcase is a one night only event. Artists have donated their works to sell, with proceeds going to Food Lifeline.
Our goal is to provide exposure to the art while raising funds for a worthy cause. This will be Juxt's third gallery show this year since their inception in January 2012. With over 300 people attending their mobile photography exhibit opening in January, they have grown to over 500 mobile photographers in Seattle and have gained a following of 701k followers through their social networks. They are excited to share with their international audience their local philanthropic mission.
The event will feature a $10.00 wine tasting with award-winning wine from Sozo Friends and live music donated by local musicians. For more information, visit www.wearejuxt.com. Food Lifeline Food Lifeline is a local hunger relief organization, efficiently serving the Western Washington area by using 96% of revenue to directly feed hungry people. Last year the organization delivered more than 27 million meals to hungry people through its network of nearly 300 food banks, meal programs and shelters. Food Lifeline is also a member of the national organization,
Feeding America. For more information about Food Lifeline or to make a tax-deductible donation, visit www.foodlifeline.org or call 206-545-6600.
Juxt: Originating in 2011, is an organization designed to cultivate and foster art created through mobile device technology. Juxt believes that through cultivation and fostering of art created by casual users through social networking, that this community will flourish. Mobile device technology has empowered the casual user to tap into their creative and artistic side. This artistic merit is where Juxt finds its niche in ensuring legitimacy in the art form. Juxt staff are artists themselves with long histories of community arts organizing and event planning. For more information about Juxt, visit their website at www.wearejuxt.com or email at info@wearejuxt.com.
Olson Kundig Architects: Olson Kundig Architects is a Seattle-based architecture firm led by owners Jim Olson, Tom Kundig, Kirsten R. Murray, and Alan Maskin. The 95-person office specializes in a range of projects both nationally and internationally, including new and renovated residences, particularly for art collectors; mixed-use buildings; academic and civic projects; museums and exhibit design; cultural centers; places of worship; urban design; and interior design. The firm was the recipient of the 2009 Architecture Firm Award, awarded by the American Institute of Architects. For additional information, visit olsonkundigarchitects.com. Sponsors: We Are Juxt, LLC Olson Kundig Architects PostalPix Christensen O'Connor Johnson Kindness PLLC Sozo Friends Press Contacts: Ashley Gammell Food Lifeline Corporate Relations Manager AshleyG@fll.org Brad Puet We Are Juxt brad@wearejuxt.com
.
For more information on the event please visit, www.wearejuxt.com/foodlifeline
We ask you to not only come to the event but to help us promote the fundraiser to your colleagues, friends, and family. Every dollar we make provides three meals to children in the Puget Sound area. Our goal for the show will be to raise $1000 through sale of photographs and donations solicited by an ask from a member of the Food Lifeline team.
Again without you we would not have gotten this far and we look forward to a fruitful journey with you all.
Please RSVP for this event at https://www.brownpapertickets.com/event/259467
@wearejuxt