Win flights at MyGermany Contest!
.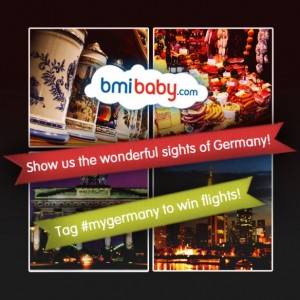 Last month bmibaby and Igers Italia launched the bmibaby Instagram feed with a first contest called #miaitalia This competition which saw you submit over 3,000 images of Italy for Bmibaby crowd-sourced destination guide!
.
Last week the airline company decided to repeat the experience with our Instagramers Germany group a.k.a IgersGermany (contact: @gladsheim ) and launched their second Instagram competition.
This time collecting images of wonderful Germany in partnership with Instagram fan group IgersGermany! Read on to find out more…
.
bmibaby Instagram competition with IgersGermany
.
Following the success of #miaitalia, we are extremely excited to announce that this month we are collecting images of awe-inspiring Germany! bmibaby currently flies to 2 destinations in Germany: Cologne and Munich. We have partnered with theInstagramers group IgersGermany to bring you insights to their beautiful country. We are keen for holiday makers to get involved and show off their skills too! If you have recently been to Germany we want you to share your photos with us for the chance to win.
.
How do I enter the bmibaby Instagram competition?
.
Enter the competition, upload your favourite pictures, tagging them with #mygermany and #bmibabygram !!
.
How does it work?
.
Each week, for three weeks, we will pick a picture of Germany we feel stands out from the crowd. We will then re-post this from the bmibaby Instagram feed to share with all of our followers. In the fourth week, after three finalists have been chosen, one will be picked to win a pair of flights!
And that's not all – at the end of the month as a thank you to all entrants, we will produce a fantastic guide to Germany using everybody's pictures.
.
By tagging your picture with #mygermany, consent is given to bmibaby use your Instagram image in a crowd-sourced guide to Germany. An album of German inspiration will be compiled and shared with bmibaby fans across our social networks!
.
More info:
.
Why Bmibaby loves Instagram?
Everybody enjoys taking photos when they are out exploring Europe's wonderful cities and as Instagram allows you to post to your Facebook, Twitter and Flickr accounts, it's a great and easy way to share your holiday pictures with your friends.
Here at bmibaby we want to take sharing to the next level and help our customers find new and exciting things to do in cities by using Instagram to bring our destinations to life!
Bringing bmibaby destinations to life using Instagram – #miaitalia
Many of bmibaby 39 destinations have hidden secrets that often escape the schedules of busy holiday makers. They want to help people discover these places – and who better than to help you seek out these hidden gems than locals themselves! bmibaby have partnered with Italian and German local Instagram groups to help users do just that.
Each month the company will be focusing on a different bmibaby destination and asking both locals and bmibaby customers to submit photo entries which they feel portray the beauty, traditions, culture, people, cuisine and landscapes of the given country or city.
Last month the kick off collected images of Italy using the hashtag#miaitalia, and we received over 3,000 beautiful images. The company will shortly be revealing their crowd-sourced guide including all of these images – keep your eyes peeled!