Would you name your baby Lux or Amaro? The fact that Instagram filters help our photos have a special touch (or make them more acceptable) it's well known for us all, right? But… Inspiration to name your son/daughter? Ah, that's new!
According to the website BabyCenter, among the top most bizarre names chosen by parents in this 2015 are: video game characters, YouTube celebrities and… Instagram filters!
Instababies v2.0 
Lux, Juno, Reyes Ludwig, Amaro, Valencia and Willow. All transmit different sensations when applied to our photos and now also serve as inspiration for other things. They're beautiful filters and also super-popular among the names chosen by parents.
In our community we have witnessed the birth of several instababies, but luckily (for the children who have to live with those names) parents have had better taste.
Trends
These names options shouldn't surprise us much. Current parents (millennials) have all grown up with these Apps and being part of their daily basis, is not surprising that they have been influential in choosing a name for their children.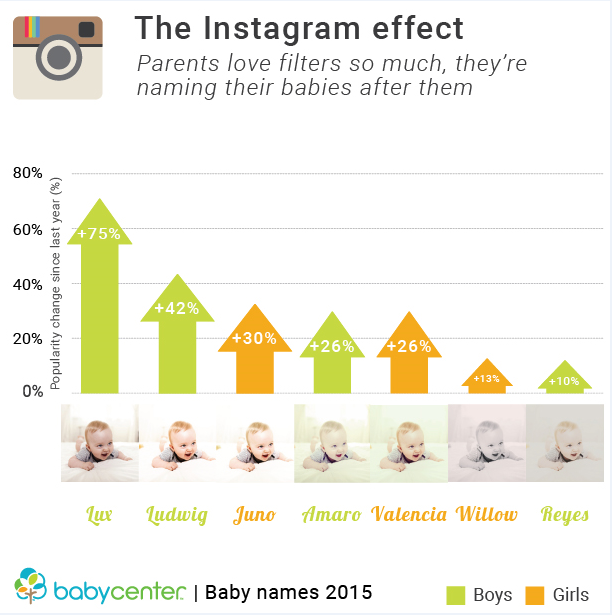 Among the chosen names for the "insta-boys" we find "Lux" with 75% (also chosen for girls) and "Ludwig" which is carried with honor by 42%. Other preferred options are Amaro (26%), Reyes (10%), Hudson (4%) and Kelvin (3%).
What about the "insta-girls"? The name "Juno" is between 30% of the newborn, along with "Valencia", used by 26%. Willow (such as the film) is chosen by 13%.
What awaits us in 2016? "X-Pro II Oliva" is a nice name for my son… doesn't?
Cover photo credit: @emmapeel03