IncostaBrava una acción de promoción de la Costa Brava a través de Instagram
.
Este fin de semana se celebra el #TBEX Costa Brava Pirineu de Girona, la acción de promoción de Girona y la Costa Brava hasta la fecha.
.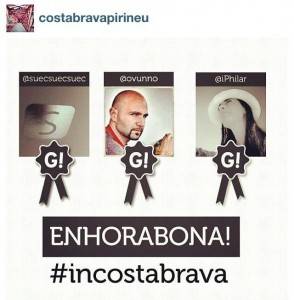 La Costa Brava ha sido elegida recientemente com Best of The World 2012 Top Travel Destination por National Geographic Traveler y se celebrará en Girona el congreso mundial de los mejores bloggers sobre Turismo del mundo.
La excelente noticia es que 3 de nuestros instagramers se unirán al Blog Trip de descubrimiento que se celebrará los dias 24, 25 y 26 para que acompañen a 3 grupos con los mejores bloggers del mundo por su viaje de descubrimiento por la Costa Brava.
.
Los 350 bloggers de Turismo más influyentes del mundo ya estan en la Costa Brava para el #tbex.  Se calcula que generarán 80 millones de impresiones en las redes sociales.
Entre ellos, nuestros 3 igers  @iphilar, local manager de @igersGirona, @suecsuecsuec y @ovunno  fueron elegidos por @costabravapirineu acompañarán desde el lunes 24 al miercoles 26 a tres grupos de bloggers diferentes durante su viaje de descubrimiento por la Costa Brava para instagramear todo lo que puedan. Cada IGer cubrirá una zona diferente (norte, centro y sur).
Os agradeceremos todo el apoyo posible desde las redes sociales para que los instagramers podamos seguir participando de acciones tan importantes como esta! Muchas gracias a todos!
Y a seguir #incostabrava #tbex #igersgirona #costabrava
.
@philgonzalez
.
Directamente relacionada con esta acción, la reciente #CatalunyaExperience organizada por la Agencia Catalana de Turismo y nuestro equipo de @igerscatalonia