Meet the Experts Evento sobre el futuro de la fotografía organizado por Xataka Foto
.
Meet The Experts: Fotografía, lo social e internet ¿evolución o revolución?
.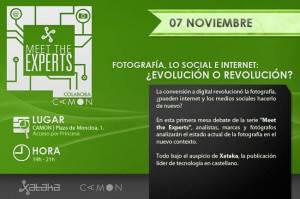 El próximo día miércoles 7 de noviembre a partir de las 7 de la tarde en el espacio CAMON se juntarán sobre el escenario a analistas, marcas y fotógrafos para analizar el estado actual de la fotografía y su relación con las redes sociales e Internet. 
Según Xataka Foto, "La fotografía vive un momento apasionante y la tecnología no es la única culpable. Internet y las redes sociales le están dando la vuelta" Este evento pretende debatir y aportar conclusiones sobre todos estos cambios que están transformando la comunicación gráfica y social.
Agradecemos Xataka Foto por contar con la visión de Instagramers y  ofrecernos unos minutos para presentar nuestro proyecto durante el inicio del evento. Daremos nuestra visión de usuarios desde la óptica de Instagram.
Si quieres asistir a Meet the Experts que promete sacar a debate las principales cuestiones en torno a la fotografía actual y su futuro. Si quieres asistir en directo, solo tienes que apuntarte en el formulario aquí. (Plazas limitadas. Inscripción gratuita)
Más información sobre el evento aquí
.
@philgonzalez