InstaTag App the easiest way to tag your Instagram Pics
.
Instatag is a brand new app who allows you to tag your Instagram Pics the quickest and easiest way.
.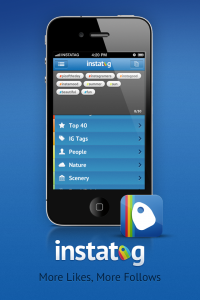 As you may know, the use of hashtags is quite a pain in Instagram. We wrote an article last year around "how to use hashtags in Instagram" but still, the app is not offering the best facilities to manage your own pictures hashtags.
With new Instatag App, Instagram users can select tags based on category, geo-location or even add their own and tag their best Instagram photos with the most popular and relevant hashtags.
.
Instatag was developed by Annex Products, an Australian compagny from Melbourne as a solution to the "huge time-consuming task" of tagging photos on our fav app, Instagram. Instatag users offers the most relevant and popular tags that will help you receive more likes (and potentially more followers) as more people will discover your pics.
.
"We wanted to develop a way that Instagram users could further share their photos and experiences through accurate and relevant hashtags. Our goal was to make hashtagging as quick and easy as taking a photo" says Rob Ward of Annex Products.
.
Our friend @MishoBaranovic adds that "Instatag helps find and add relevant hashtags to Instagram photos. Adding the right tags makes it easier for other Igers to find, like and comment on their images."
Instatag can also suggest you tags based on your current geo-location. Tags associated with venues or landmarks are generated from other tagged photos in the area, and eventrelated tags such as a sports or concerts are generated from recent location-based trending tags.
Another cool feature of Instatag is that "Igers" who often photograph similar subject matter can save their own lists of fav´s tags which can be easily be accessed with just a few taps. Remember you can download Instatag at the App Store for only 99c.
.
Congrats for this new App!
@philgonzalez
.
More info at: www.instatagapp.com and  www.facebook.com/instatag And of course Twitter and Instagram accounts! @instatagapp