FocusOn Instagramers 1.19: @Takinyerphoto
.
Each week, Instagramers.com discovers new people. People addicted to Instagram revealing their lives, passions, tips in Instagram. This week we discover a young guy from New York City who is living "a dream coming true" and one of the sweetest moment of his life. Today we meet young Instagram´s New Yorker @takinyerphoto.
.
His name is Anthony…
.
… But all the people know him like @Takinyerphoto
.
Anthony Danielle is 24 years old. He born and raised in New York where he now works in music publishing and takes most of my iPhone photos. He bought his first iPhone ever in June 2010 and he thinks, it has become the best investment he has ever made.
I met "Tony" few months ago through a contest we organized at Instagramers.com. MadridFotoContest
.
Talking with one of my friend who works at the International Photography Exhibition @MadridFoto , we had the idea to organize a Contest to give a chance to this new stream of artists who were sprouting from Instagram and represented for us a new source of photographers.
.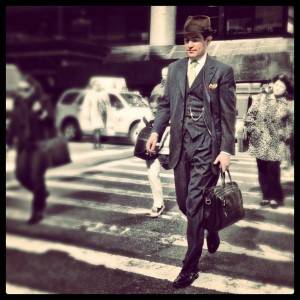 MadridFoto thought it was a great idea to integrate in their famous international fair, a new trend of Photography and particularly people from this network called Instagram.
In our way to organize the contest, we met really by chance, Aristocrazy. This Jewelers company found very interesting our idea of "Street Photography" contest as their recent advertising campaign was based on internationally known Scott Schuman. Scott is famous for his Street Style Blog The Sartorialist . And they sponsored it!
..
It was probably the first "Street Photography" Contest in Instagram and Tony with a "high level" of contribution won!
Yes, @takinyerphoto won!
(see awarded pic besides)
..
Few months after Tony´s reputation has grown and he is today one of the most appreciated Street Photographers in New York with other friends like @richnyc (read article here) @koci (discover here) or @sionfullana.
.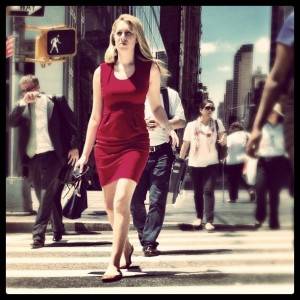 He finds himself taking and editing pictures just about everyday. It's something that he loves to do and he doesn't plan on stopping any time soon! He works in New York City and it's certainly one of the best places in the world to photograph. He considers himself very lucky to not only live there but to be able to capture its characters and architecture with his iPhone.
..
When it comes to art, Tony is a big fan of modernism and pop art. "The abstract qualities of modernism and the bright color of pop art just do something for me that other types of art don't." he says.
..
Tony is a big fan of music too, and the classic blues like Muddy Waters, Howlin' Wolf, Jimmy Reed and so many more.
He is also a huge fan of the Beatles and Bob Dylan.  "When it comes to newer bands I like anything written by Jack White and The Strokes. I've been known to play bass guitar but that's taken a back seat since I stumbled onto Instagram".
.
When asking him about his hobbies or addiction, He says he likes tattoos, ginger ale, riding his bike and baseball.
..
@Takinyerphoto recently appeared in Mashable, one the most important blog in US  which is as itself a huge "reconnaissance". As a very humble person, he recognized what MadridFoto did mean for him and we will always be grateful for that too. Congrats Tony to carry to the medias the friendly and peaceful spirit of our whole community Instagram Soul.
..
Thanks very much too for answering our weekly interview at instagramers.com
.
When did you first join IG?
.
I joined Instagram on October 20th 2010, 2 weeks after it launched.
I learned about it when I saw some photos my college pal @joevaasphoto was posting to Facebook.
I checked it out in the App Store and the first thing that appealed to me about it was the price, haha… Free!!! And you get all the filters, it was almost too good to be true.
..
How long do you spend a day in IG?
.
Way too long!! haha.
If my phone is out I'm either taking a picture or checking Instagram.
This is the first time I'm putting it in words and realizing that I might have a serious addiction to it.
.
Why do you think you are so addicted to IG?
.
I'm addicted to Instagram because it's really easy to use and the Instagram community is not like any other I've ever been a part of.It's a global photo gallery!
How could you not be addicted to that?
Each filter provides it's own different effects and the instant feedback you receive from users is just great.
..
Were you already fond of street photo before?
.
I did a report on Henri Cartier-Bresson in high school, so I knew about it at some point, I just never knew I would turn into one haha.
I've always appreciated candid photographs, there's something about that captured moment that I can't really explain and that's what makes it so interesting.
(nb:  Cartier Bresson, French photographer is considered to be the father of modern photojournalism. He was an early adopter of 35 mm format, and the master of candid photography. He helped develop the "street photography" or "real life reportage" style that has influenced generations of photographers who followed.)
.
You were recently awarded in MadridFoto Contest, highlighted in Mashable and other posts.. How does it feel? Did it open you to new business or personal opportunities?
.
IT FEELS GREAT HAHAHA…
It's always good to be recognized for what you do.
It's all happened so fast (Instagram isn't even a year old yet!) so I'm just trying to enjoy the ride.
I haven't seen any business yet, but my Flickr page has been blowing up since the Mashable article!
I've gotten a few more requests to answer some questions and I am planning on working on some new stuff with some very talented IGers.
.
Which is your favorite pic? How did you snap it?
Damn that's a pretty tough question!
I've got a couple that I really like for different reasons, I love the look of first "moustache" street art graffiti I posted which I took in the 42nd St. Subway.
I love the picture of the guy in Times Square in front of the Kodak billboard which I took walking past him, I like the one of Ice-T because he's famous and I took that one the same way, just walking past him on 7th Ave. while he was shooting his TV show.
.
What was your first reaction when you had your first Pop?
I was excited!
It was one of my photos from the photojam (which was held by @joshjohnson where you take and post 100 photos in a day which is crazy now that I think about it but it was for the Make-A-Wish foundation so it was worth it).
I was at Hecksher State Park in NY and I took a picture of a sailboat out on the bay. I had just bought ProHDR and it made it to the popular page and I've been on the up and up ever since.
.
Are your "non Instagramers" friends and family bothered by your IG addiction?
Haha, I don't think so.
After all the good fortune that's come my way by this app, I would be shocked if anyone could be bothered by Instagram for any reason.
.
If you´d have to recommend just one user you  to follow?
.
That is WAY too difficult, no way I could do that. Gotta follow the legends: @fashion @sionfullana @anton_in_nyc @eros_sana and @thomas_k.
Then there's the underrated photographers @streetstylish  @cmykchicago, @astrodub , @davidag, @mrdarling, and @feliciart. The best way to find others is through the popular page and your following news feed.
.
Something you would say to a new user?
.
Get involved. leave comments, like other people's work, and take a lot of pictures!
.
Thanks very much for your time and interest Tony. It was great meeting you!
.
@philgonzalez
.
More info:
– Henri Cartier Bresson Influence.
– MadridFotoContest Finalists short list here.
– Takinyerphoto, Streetstylish and Thomas_k at Mashable