FocusOn Instagramers 1.28: @Luison
.
Each week, Instagramers.com discovers new people. People addicted to Instagram, revealing their lives, passions, tips in Instagram. This week we meet Luis Rodriguez, married, two children, architect, multi-lingual and one of the biggest Instagram Addict I ever met.
I met him in a funny way, around one year ago now in Instagram and never could have guess we were "so close" in real life.  You will find him early in the morning with his #aroundmyplace tag, or his yet famous #reflections on a car or #perspectives on windows. Luis is first of all an iphoneographer but is part of our Instagramers Madrid Team too. He kindly accepted to be our guest this week.
.
My nick is @luison
.
I´m an architect, married to Mafé, a beautiful brunette from Seville, and father of the two sweetest and most beautiful girls in the world: Candela, eight years old, and Martina, six years old.
I can speak English because my parents sent me to Ireland when I was only eleven, Italian, because I lived in Milano for a year as an Erasmus student, French because I learnt it at school and visited France several times in summer and German, because I studied at Goethe Institut and have family living in Germany.
I´m very fond of all those things anyone would say: reading, going to the cimena, listening to music, travelling and so on, but what I really like most is being with my family, spending my time with them enjoying what my place offers, which is a lot. Madrid is a city full of opportunities and activities for families and that´s something we can´t miss.
.
I love Nature and everything related to it.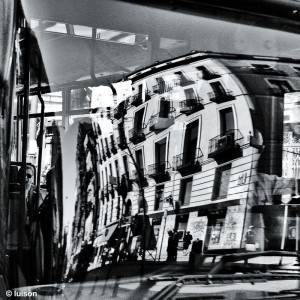 As a child, I raised birds, fish and all sorts of animals at home. In fact, I wanted to become a biologist and not an architect when I finished school, but my parents convinced me that, in Spain, a biologist had no future so I decided to become an architect, like my father. I don´t regret it, I love Architecture. It has taught me the importance of space, dimensions and, above all, the use of natural light as another material or element to use when designing a building.
This concept is also fundamental when shooting pictures. Nothing can take place in life without Architecture. Architecture has also developed in me the love for Beauty in all its forms. I seek and admire Beauty, whether it´s on buildings, people, common objects, whatever. We are surrounded by Beauty, one just has to look for it, see things in a different way as they are shown to us.
As an architect, I´ve been very busy for many years. I have even been a teacher at a private University in Segovia for three years. Unfortunately, the situation nowadays in Spain for architects and all those professions connected to us is very critical, so at present, I try to do others things and concentrate my efforts on my blog, on IG, on learning photography and so on.
.
Thank you Luis for graciously accepting to answer our weekly interview.
When did you first join IG?
.
I always thought I had joined IG later, but according to Statigram, I joined it on October 18th, 2010. One of my friends started posting pics in Facebook, I asked him about it and told me this was a new app that looked great, so I uploaded it from the Apple Store and started my new adventure.
.
Why are you so addicted to IG? And how would you define your style?
.
To be honest, I´m not so sure about knowing the reason, but the truth is that I´m totally addicted to IG. I just love it. It´s more than just posting and sharing photos, it´s a huge and successful social network. I´ve met very interesting people all over the world, I´ve seen places I never thought I would see, but, above all, I´ve discovered in me a passion for photography which I was not aware I had. Now, thanks to IG, I see the world in a very different way.
..
I don't know if I have my own style, although many people have told me that, as soon as they see one of my pics, they know it's mine. Some others have also told me that  they can see right away through my pictures that I´m an architect, which is a compliment to me. However, it's true that I say good morning everyday with an #around my place pic, and that I post daily a #reflection. These two topics are what characterize me and my style. That's something I've been doing for over a year, and that I will do as long as I don't get tired of it.
.
I just love reflections, I can´t help it. I see them everywhere: on cars, on buses, on buildings, on puddles, on the beach.  I try to vary them, so that peolpe do not get tired. Sometimes, I turn upside down the reflections on water. The same reflection turned upside down has nothing to do with the original one because it is like entering a new world, a new dimension. This is what I call "my world of dreams". They have become very popular and many IGers post them too now.
.
Were you already fond of photography before you started instagramming?
.
Yes, I was very fond of photography, but in a different way. My parents gave me, as a present, a good camera, a Nikon, when I finished my studies of Architecture and I´ve always carried it around to take pictures of my familiy, celebrations, holidays, cities I visited, buildings I liked and so on. But I never thought about editing the photos, just shooting pictures and keeping them in my personal laptop.
.
With my iphone, and above all, with Instagram, I have discovered a new world totally unknown to me before, which I really love. It happens to me that, as soon as I step out of my home and walk along the streets, I start to look for possible pictures, which is something it had never happened to me before.
.
For you, which are the 3 best photo apps?
I´m not so fond of apps. In fact, compared to other IGers, I have and use very few apps. I have used only Camera+ for a long time, but I have recently discovered Snapseed and I like very much to play with different parameters. The third app would be Filterstorm, but I must say I haven´t used it for a long time. Squaready is very useful to post pictures in its original dimensions, without cropping them.
.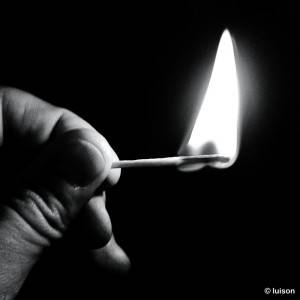 How much time do you spend on IG on an average day?
.
I spend a lot of time every day. Unfortunately, my professional status right now allows me to have a lot of free time, and I spend it on IG. I could not exactly say how much time, because I visit IG very often, but do not stay long. What I usually do is to post four pics every day, check out the strem of those people I follow, and answer to the comments people leave on my pics.
.
Which is your favorite picture?
.
I could not say, I have so many favorite pictures… But I´m very fond of the pic of a reflection on a puddle that I posted last March. With that pic I hit for the first time 300 likes, which was a lot at that time, because not so many people followed me then. In fact, I like it so much that I have it in my ipad as the screen saver.
I´m also very fond of the pic I posted to celebrate IG´s first birthday, a lit match held in my hand. It´s a pic shot and edited in just a few minutes while my kids were watching me. I really love the result. The black wall behind is the wall of my kitchen, and I shot with my right hand while the left one held the lit match. It had to be a quick shot; otherwise I could burn my fingers!
.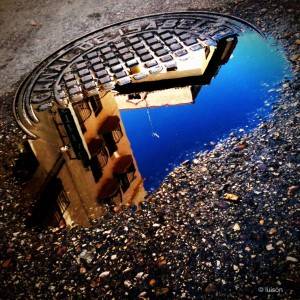 What was your first reaction when you had your first Pop? And do you still like the picture?
.
I was really very excited. In fact, I was excited every time I had a Pop for a long time. I used to make a screenshot with my pic in the Popular. I looked for it in a web that showed all popular pics.
And then, one day, I realised that I had been very foolish, that hitting Pop didn't really mean anything, that I had been too obsessed with it, and I promised myself never to look  again. And I´m proud to say that I have kept my promise since then.
.
Are your "non Instagramming" friends and family members bothered by your IG addiction?
Very, I must admit. My wife and daughters are very patient with me.
They know IG has become very important to me and respect it, but sometimes it is very annoying for them to see me using my iPhone. I try not to visit IG when I'm at home with my family, but I don't always succeed.
A few weeks after starting on IG, I even promised my wife not to visit IG during weekends, and I could only keep my promise for a couple of weekends…
.
Tell us a little bit about the activities of your local group @igersmadrid?
.
We are two members up till now, @daphnepi (who is going away for few months, in a short time) and myself. We´ve held two Instameets so far with over one hundred people each, which have been very successful. We were sponsored by a Tortilla´s restaurant called FlashFlashMadrid aka @flashflashmad. We organized a contest on each occasion, and the winners won many "romantic 2 people dinners" at that restaurant. We appreciated very much their help in did.
Every Friday we feature one of our followers from Madrid, who we find deserves more attention and put him or her in the spotlight, both on our Igfeed and on our FB page. If anyone from Madrid has an interesting initiative, we also promote him or her on our feed and Facebook Page.
.
A funny anecdote in your short Instagram life?
.
I´m afraid I don´t remember any funny anecdote, apart from the fact that I happened to know @philgonzalez (owner of this web) years before I met him on IG! He´s been my wife's boss for two years and friend since the past five, so I had often heard of him at home, although I had never met him. And then, one day, somebody posted in Facebook his post about hashtags in Instagram, and when I read it, I realised that, the Phil Gónzalez of whom I had heard so much about, was the same @philgonzalez whose post I was reading!
.
A second anecdote could be that my father started in IG about two months ago, a few days after giving to him my old iphone 3GS. He only followed a few and was only followed by me. Then, one night, I decided to take advantage of the number of followers I had, and I announced him to the IG community. In a few minutes, he started having his pics liked and commented, people started following him, and he was really surprised. It really pleased me the response of all my IG friends.
.
A trick you would recommend?
.
I don't have any tricks. I would just recommend to have the eyes wide open and the iPhone ready. You never know when the opportunity of a good picture may arrive. If you like to shoot pictures on the street, don't be shy, you'll miss lots of good pics if you are afraid of people's reaction. I know it very well because it happens to me all the time. When people stare at me, I cannot even take my iphone, and I´m perfectly aware that I've lost the opportunity of good pics because of that.
.
Something you would say to a new user?
.
I´m not much of advising people, but the one thing I would say is just enjoy IG, post the pictures you like. Don't copy anybody's style, find your own style instead.
Don´t worry about the number of likes or followers. It doesn´t really mean much. The IGers mostly followed are not necessarily the best, the pictures mostly liked are not always the best pics. Never follow in order to get a follow back, just follow the people you like, the people who make great pics. Try to learn from them, the way they see things, the way they see the world, the way they edit the pics.
For me, it is important to see the world in a different way from you´ve seen it until now. Learn to use the apps, to see what each one of them can offer to your pics.
Just have fun. And be careful, IG can become a dangerous addiction!! 😉
.
Thanks Luis once again! You are great guy!
You will find all his pictures here!
@philgonzalez