FocusOn Instagramers 1.29: @DimitrisKarathanos
.
Each week, Instagramers.com discovers new people. People addicted to Instagram, revealing their lives, passions, tips in Instagram. This week we meet Dimitris. I met Dimitris months ago through our beloved norwegian friend @ria (see @ria interview here) and I highlighted his "very first Instagram exhibition" in Greece in a post. But i thought he really deserved much more than a simple post.
Today we meet an incredible #BW photographer in Instagram.  A simple, discret and humble man who shares daily with us, thousand of great emotions.
..

My nick is @DimitrisKarathanos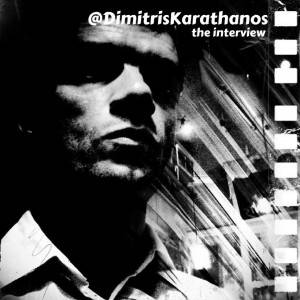 At the moment I'm 35 years old, but that's bound to change soon.
I've been a journalist for more than a decade and I'm working as senior editor at SOUL magazine, Greece, since the day it was launched. Never married –or should I say I remain single? I run a lot.
I love books. Never been much of a visual person, always preferred printed words instead. Ever since I was introduced to iPhoneography those two things have combined and now I got a mind like a comic book!
I think photography can change the say you see the world, everything becomes more clear and significant when you start noticing around you.
I get inspired by all sorts of things: music, novels, films, one-liners, exhibitions, architecture, but most of all by people. My favourite photographers are Joel Meyerowitz, Robert Frank, Cartier-Bresson, Michael Ackerman, William Eggleston, as well as the hugely influential artists I'm coming across every day through Instagram and other iPhoneography networks such as Flickr and Tumblr.
I love textured, distorted, gritty photography as much as I appreciate point-and-shoot simplicity. My own photos are not very much complicated, they always remain within the realm of realistic, but I do hope that at best, they convey emotion and meaning.
.
Thank you Dimitris for graciously accepting to answer our weekly interview, you can see all his gallery in Instagram here.
.
When did you first join IG?
.
October 26, 2010.
I remember it being my name day celebration, as well as a municipal bank holiday, so I was in a rather relaxed state of mind. I downloaded the app, looked about me, snapped at the first object that grabbed my attention, which by the way happened to be a cheap Danelectro guitar I had on display, applied Lord Kevin, uploaded, and let it be my very first post.
It's just like the say: the worse the picture, the more ornate the frame!
.
Why are you so addicted to IG?
.
Am I really addicted? I consider Instagram a personal hobby of mine which gradually has come to amount to a serious body of work. I certainly love the sharing aspect: the fact that a photo can be taken, processed, finished on a single device and then travel all across the world within seconds. And I can't help being fascinated by the workflow of other photographers.
I love being transported from Thessaloniki to Berlin, to Madrid, Paris, London, Tokyo, Seoul, San Francisco, Chicago, Toronto, or wherever else within a set of images that pop up on my newsfeed. And I'm not just discussing geographic variety here, but entrances to the human soul being unlocked throughout the globe. This universal artistic kaleidoscope is such a luxury.
That's why I believe Instagram is revolutionary in the impact it has had on photography. It allows to so many people to engage.
.
How would you define your style?
.
Tom Waits once summarized his entire career as a bad imitation of Louis Armstrong's work, an imitation that ended up in establishing a distinct style of his very own. That's exactly the case with me.
My vision of photography is constantly developing due to being on Instagram and being able to admire the inspiring work being created by other fellow artists. It's a give and take community, and sometimes I immensely enjoy laying back to allow myself to be taken away by this continuous maelstrom of genius that's being created on a daily basis. However, if I should briefly outline the general scheme of my work, I'd say that beauty exists in things we overlook.
All my photos are candid, because I find that people are truer to self when they're acting unconsciously, so I make sure to be out there as often as possible, freezing those moments that at best are trying to resonate hope, solitariness, attempts to freedom within the narrow margins of the urban environment. It goes without saying that this may tell you more about me that it does about them, but that's up to the viewer to decide.
.
Were you already fond of photography before you started instagramming?
.
Quite the opposite. I was the last person around to be entrusted with a camera, even for a birthday snapshot. I was always told off for shooting against the sunlight or for my "unorthodox" framing! I've had a huge interest though, as well as a general knowledge of the history of photography, and since my work in the press largely consisted of absorbing thousands of images, it has helped me shape an opinion on what I like, and most importantly, what I strongly dislike about certain styles. So when I discovered iPhoneography, and by being immediately struck by the analogue feeling of some of the shots I was viewing on Instagram, I found myself trying to creatively respond. So I ended up teaching myself the basics of photography through trial and error. I still am.
.
For you, which are the 3 best photo apps?
.
That's a tough one. Not only do I love editing on my phone, sometimes merely for editing's sake, but I have to admit that I own almost a hundred of them: my apps occupy 11GB of my iPhone disk space!
So, returning to the question, as a principle I try to shoot as much as possible with Hipstamatic, the king of apps, which never fails to offer me the analogue feeling of a point-and-shoot camera. I use all sorts of lens / film combos, depending on light conditions, season of the year, time of the day, or my own mood swings, with my favourites however being Lucifer VI with BlacKeys Supergrain, John S with AO DLX or BlacKeys B&W and Tejas with Ina's 1969.
When using another camera can't be helped, I prefer ProCamera or Almost DSLR. Post processing always involves Filterstorm, which I consider by far the best iPhoneography application, the closest you can get to a mobile photoshop.
Other favourites include Lo-Mob, Cameramatic, PictureShow, ScratchCam, Iris, BigLens, PhotoFX, Snapseed and currently I'm very infatuated with a couple of the filters within the Super Retro app.
.
How much time do you spend on IG on an average day?
.
I make a habit of drinking my morning coffee with the fellowship of Instagram.
Accompanied by a set of headphones with loud music on, I find it a breakfast of champions, total escapism!
I try to post a picture a day and I always look forward to it. Uploading more would perhaps make me more popular, but I enjoy thinking that a day between each photo gives it time to make its course and be taken in. I also find that I don't really take an interest to other people's photos if I get dozens of them in my stream every day. I don't see the point of some people making a visual twitter out of their lives, practically posting everything, from cats to Starbucks mugs.
Anyway, perhaps I'm being a bit harsh, but I think that if you want to make people to pay attention to what you're saying, you don't raise your voice but lower it. That's what really commands attention and my own attention is certainly focused to artists who don't go about posting around the clock.
.
Which is your favourite picture?
.
I'm very fond of the one named "Daytime Drama". It conveys an atmosphere of mystery which the greatest part of my work sadly lacks.
.
What was your first reaction when you had your first Pop? And do you still like the picture?
.
I had taken a screenshot of the photo and proceeded to reward myself with a large glass of whiskey!
It was an awful photo actually, but who cares? As a means of motivation, it had a drastic effect on me, as much as it has in every new user. Nowadays I never bother to take a peek at the pop page.
.
Are your "non Instagramming" friends and family members bothered by your IG addiction?
.
Yes they were, but since I was fortunate enough to exhibit my iPhoneography work twice, and by having been featured in the parallel program of the latest Biennale of Young Artists from Europe, I've eventually earned their respect. They somehow came to realize that this is not just an "internet thing", but a huge international community that can often result to real photography, as much as the one presented in conventional galleries does.
.
Tell us a little bit about Instagram addiction and users in Greece?
.
Well, with Greece being Greece, i.e. a sunny corner of the world bathed in light, we too often produce the postcard kind of photo that I find unbearably banal, but I also admit of having posted in numerous occasions, too. The community is rather small so far, but I hope that it's in the process of growing, and I'd certainly look forward to the prospect of a first Greek instameet.
.
A funny anecdote in your short Instagram life?
.
My 18-letter long username was the most hilarious joke I could play on myself in the days before @ mention comments. Nobody would bother comment or reply to me! (my own comment: i spent myself many days before learning DimitrisKarathanos nick!)
.
A trick you would recommend?
.
It's all about light.
.
Something you would say to a new user?
.
Express yourself, allow your style to develop over time, create the kind of pictures that you'd appreciate adorning your own walls.
.
A user you would recommend?
.
The major artists are already very well known: Koci Hernandez, Philip Park, Mike Kus, Mal Sherlock, Sion Fullana, Dan Cristea and a number of others are producing groundbreaking work. But I would also strongly recommend the less popular but equally stunning Dave Weekes, (@daveweekes68), Benamon Tame (@benamon) and @kireji.
.
Thanks Dimitris for your precious time, I´m sure lots of Igers will enjoy this interview with a great BW Photographer in Instagram.
@philgonzalez
.
Dimitris Karathanos is available on Instagram in this Extragram gallery , on Flickr , on Twitter and has his own album on blurb mobile stories.