FocusOn Instagramers 1.44: @NewYorkCity
. 
Each month, Instagramers.com discovers new people. People addicted to Instagram, revealing their lives, passions, and favorite tips in Instagram.  Today we feature @NewYorkCity .
@NewYorkCity is definitely one of those "Early Adopters" who started really soon sharing pics on Instagram.
On her more than 463.000 followers profile, you can read a short description " A new yorker obsessed with new york | co-founder @mmlnyc " plus her Tumblr Site and Twitter Profile.
.
Her name is Liz…
But everybody knows her as @NewYorkCity.
According to our information, she is Instagram user number: 1.483.611 and that is due to the fact she joined Instagram very soon (January 2011).
Liz is a 23 years "old" woman and lives in Manhattan, New York.  She has always been in love with the city for as long and she can remember; She wanted to live and breathe it. She grew up in a creative household where lots of art, photography and paintings were present, so she has always admired creative fields.
"I've never considered myself a "photographer" so to speak, I've always just liked to capture a moment in time that's irreplaceable. I'm lucky enough to be able to share photos of the city and have received some amazing comments from people across the world telling me that I've brought back memories for them – those are my favorite comments to get!" she says.
.
Thank you for graciously accepting to answer our monthly interview! You can see her Gallery in Instagram here.
.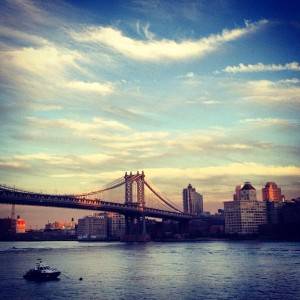 When did you first join IG?
I signed up in January 2011.
.
Why are you so addicted to IG? And how would you define your own style?
I think I'm so addicted to Instagram simply because it's visually stimulating. I love to see other images people create and it's a great way to see different parts of the world through my iPhone.
.
Were you already fond of photography before you started instagramming?
I definitely was – my uncle, Stephen Shames, has been a photojournalist since his college days, so I've always been surrounded by photography. Even before Instagram came out, I always took snapshots of the city, so this was a perfect outlet for me to share them.
.
Which are your 3 fav editing apps?
I don't use too many, but my favorites are Snapseed and Camera+
.
Which is your favorite picture? And the techniques you used?
That's a tough one…but I think my favorite photo that I've ever taken was of Bill Cunningham in the dark – you're able to see his face illuminated by his flash…definitely one of my favorite photos.
.
What do you think about recent "Discover Page" replacing previous "Popular Pages" on Instagram?
I think it's relatively the same – just wish a new name.
.
You recently launched The Mobile Media Lab project. Can you give us more details?
.
It's been a very exciting project for Brian DiFeo (@bridif on Instagram) Anthony Daniele (@takinyerphoto see his interview here) and I.
We felt there was a space for brands to create marketing programs on Instagram and we've been able to work with some amazing clients. We've worked with them on executions on the Instagram, as well as with them as strategists to create the best possible marketing campaign. And, we also work with brands as account managers and guest photographers, so we do a lot of different things at The Mobile Media Lab.
I feel very fortunate to be able to have these opportunities and to have worked with amazing brands, and I know we're all excited about the future campaigns we have coming up.
.
What do you think about brands approaching "influent users" like you. Is it easy to mix "Promotion of a brand" with your photo style?
I believe it is. Just stick to what you know and love; don't sacrifice your creative "edge" for a brand.
Everything that I personally have worked on has been NYC inspired – from events at the New York Stock Exchange, to the US Open (see pic with @takinyerphoto on the right side) and even with New York inspired fashion lines. I've been able to give a new voice to a brand.
.
Do you think this kind of collaborations could be a way to "live" from mobile photography as a real job?
Absolutely – The Mobile Media Lab has had some fantastic opportunities. It's an entirely new way of brands to reach their audience.
.
Something you would say to a new user?
Get involved with the community – participate in hashtag challenges and go to instameets. Challenges are a great way to practice and get creative with your photography and attending instameets is a great way to meet people in the community.
.
A user you would recommend?
I would recommend @nineteenfiftyone – Kathryn is a UN Aid worker documenting her experiences at a refugee camp in Southern Sudan. Every photo is eye-opening and truly makes you feel grateful for everything you have in life.
.
Thanks very much @NewYorkCity for this very interesting point of view.
.
You can see her Gallery in Instagram here.  Remember you can know more about  her at Tumblr Site and her Twitter Profile.
Learn more about The Mobile Media Lab too!
.
@philgonzalez
.