Instagramers London presents its second Instagram photography exhibition, Iconic London 2012
.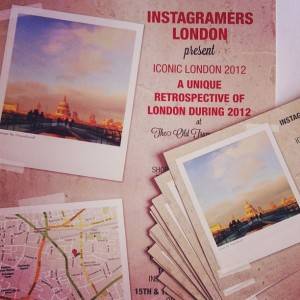 The event will take place from Wednesday 12 to Sunday 16 December 2012 at the iconic Truman Brewery in London.
.
ADD JANUARY 2013: Check Gallery Pictures Iconic London 2012
.
.
The second exhibition by the group; the first was My World Shared in October 2011, which received high acclaim as being the first of its kind in the UK. This second event will be bigger and better and takes a retrospective look at life in London during 2012, a momentous highlight in the history of our capital city.
Thirty influential London Instagramers will each give their own personal perspective of London during this most exciting of years, in their own unique style, supported by finalists and winners of Instagramers London's year long Iconic London 12.12.12 image challenge.  The opening evening on 12 December will see the overall winning image declared with the lucky winner receiving a super weekend stay for 2 at a choice of NH Hotels in Europe.  All the printed finalist and winning images will be sold in aid of the Royal Marsden Cancer Charity.
Supporting the event will be companies who have embraced the exciting world of mobile photography by offering exciting and innovative products and services for mobile photographers and Instagram fans alike, and we are delighted to be supported and joined by Europe's biggest online photo printing service Photobox, who will share our event to announce the winners of their biggest photo contest to date, Motographer of the Year 2012.
.
Friday 14 December will see the largest Instameet in the UK.  All Instagramers are welcome to join us, RSVP to
iconiclondon2012 @ gmail.com with your Instagram name.
The event is open to the public on Saturday 15 and Sunday 16 December.
Stay in contact with Instagramers London thru its Web Page
Instagram @iLondon2012
Twitter @iLondon2012
Facebook Iconic London 2012
Web https://iconiclondon2012.com
Email: iconiclondon2012 @g mail@com
.
@Igerslondon
.
Check out the awesome coverage!
Stunning London – through the lens of mobile Lens at The Sun Magazine On Line
London, by Instagram: Unusual exhibition of images taken and edited in 2012 using smartphones at Daily Mail.co.uk
Crazy, weird, wonderful: London through the eyes of Instagram at The Evening Standard