New Statigram Hashtag feed and moderation for your Instagram feed on Facebook
.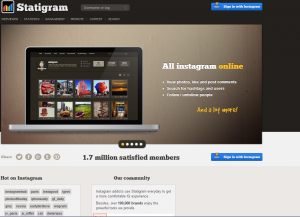 Our friends of Statigram announced the second version of their Instagram feed app on Facebook release.
According to Jérôme Boudot (see interview here) , and thanks to this new version, you will be able to:
Add a hashtag feed in our Facebook Page.
Plug in moderation in order to remove inappropriate content and protect your brand image.
You just have to drag and drop to reorder your IG feed and hashtag feed. Statigram also added a Follow button linked to your Instagram web profile.
"Statigram hopes we will enjoy there new improvements. Stay tuned for new cool features to be released within the next few days!" Jérôme says. You can find more promotion tools at Statigram Promote Area
Good news Statigram!!
@philgonzalez
Recent article about Statigram:
.
Statigram celebrates its First Million Users with a Contest in Instagram