Statigram, the developers interview.
.
Statigram is probably one of the major webservice based on Instagram Api boom since previous projects like veteran Webstagram, Snapfinch and more recently Extragram.
.
The amazing virality of a new and interesting service in Internet and the high-speed communication platforms like Instagram, Facebook or Twitter provoked a real wave of visits to Statigram site. Developers are astonished themselves by results of audience to their site.
.
But What is Statigram?
.
Statigram is a web which offer a short (at the moment) range of useful tools that allows Instagramers to get easily their  basic profiles informations and metrics. You need just to logging with your Instagram account nick and password.
.
Even if the web is still in a kind of Beta version, we appreciate the cool "Instagramed" design and the "share functions" that are today a "must have" in any kind of any on-line matter.
By the way, they prepared a "send a screen shot to your mail" function that impulsed moreover the initial virality.
.
In terms of tools and according to its developers the site will be soon improved but at the moment, it´s a simple web browser offering 5 basics metrics.
.
– Your five Most Liked Pics in Instagram.
– Your Most Commented Pics.
– Your activity over time (most active days)
– The Instagram filters you used the most.
– Your Pics hashtag clouds.
.
As a plus, you have interesting information of your community trends like "Users most engaged" with you and  "People you are most engaged with" plus a simple tool of "Users Profiles recommendation".
.
This service drew so much my attention that I decided to know more and contact with the Developmemt team.
One of the responsible, Jérôme, a nice french man helped me discovering who were behind this cool project. He kindly accepted to answer to our Instagramers.com questions!
.
It seems it´s not your first project on-line… Is it?
.
No, really I created my company with 2 partners in 2005.
.
We started first our business with the launch of www.dilelui.com, a service that helps people who had an accidental "love at first sight" (but missed the opportunity) to meet again, using geo-targetted classifieds.
This was quite a nice media success in France and allowed us quickly to be in touch with other larger Internet companies. We present to one of them a new concept of community platform for travellers.
And finally developed for Air France the www.bluenity.com . A funny way to find out who will be in my airport or on board in my flight.
That was the first important project we launched.
.
.
Internet is mostly based on Palo Alto, San Francisco Bay Area but you are in France?
.
Yes, we are based in Limoges, a small town in central France where there is a bunch of interesting start-ups. For example, www.twoolr.com which is also an interesting statistic tool mostly focused in Twitter.
.
How did you start with Statigram? Were you an addict Instagramer yet?
.

Being passionate about photography and especially by macro, I immediately became an Instagram addict. You will find me under user nickname @macrominus. My followers and followings are also nature photo enthusiasts in general.
Quickly I felt the urge of having more information on my Instagram activity and hence the idea of Statigram site.
.
(on side: profile pic of @macrominius)
.
How long did you spend to launch the first version?
.
The service was built in just a one week!
.
This is an "agile" exercise we try to do 3 or 4 times a year with my team.
.
We turn everything else off and we start with an idea on Monday and try to release it on Friday eve. Whatever the level of complexity! It's a good adrenalin rush. It´s very exciting and allows all the team being involved and improving on little things in daily work, like defining priorities for example. Lol.
.
When did you launch Statigram service? What are the first results?
.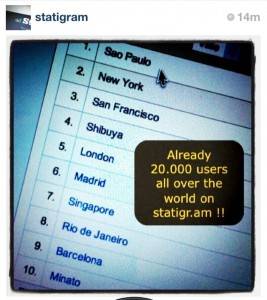 Statigram was launched on May, 6th in the evening.
Five days later we reached 20,000 users! It's absolutely thrilling and really fired us to keep on providing statistics to the Igers community.
Such a growth is not a primrose path of course. The major one being the limit of calls we can make the Instagram API per minute and which impeded us from delivering consistently accurate stats to users. That´s why you could find some incoherence in data delevering sometimes depending on our Api traffic.
.
What are you working on to improve your datas and metrics consistency?
.
Yesterday we've release a temporary patch, displaying a notice to the user whenever the limit is reached during calculation and therefore causing errors.
.
Besides this we have also contacted Instagram, asking them to raise the limit a little bit! LOL
I think we'll also try to engage the community so that this limit be increased. It could be fun!
.
I´ve seen you involved Instagramers to help you in improving the site with their feedback…
.
Yes and take this opportunity to thank all our users for their feedback.
.
Really. Their thanks and their incredible enthusiasm around Statigram. Combining their ideas and our own we've got stuff to built for a while!
It represents today one of the most valuable tool in the web to all of us that want to know more about our stream activity.
.
From Instagramers.com we wanted to support this awesome initiative that makes our Instagramers Lives easier!
.
Hope you enjoyed this interview with Jérôme a.k.a as @macrominius as much as i did,
You can contact with them at any moment through www.statigram.com contact mail or look for IG user @statigram too!
Or their company at Tripnity Facebook or @tripnity IG profile
.
@philgonzalez
Other recent and interesting interviews at Instagramers.com
– Instagram founders Interview.
– Webstagram founder, Joe Mio.