San Diego Instagramers Set to Break World Record – Del Mar Race Track to Host Milestone Event
Local community group Instagramers @IgersSanDiego set to host over 1,000 Instagramers for the Del Mar Racetracks annual "Haute As Ever" summer event scheduled for August 24th at 1 p.m.
The event will take place in the track's Seaside Cabana with the goal of breaking a previously set record of 250 attendees- marking history as the largest Instagramers meet-up Worldwide!
(all info here) (see in press)
.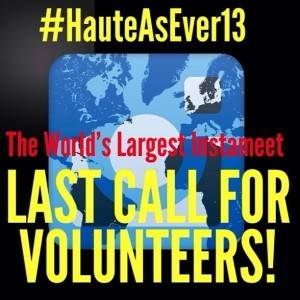 The Seaside Cabana will be transported back in time to the fabulous 1940's for a creative backdrop of vintage cars, models, and live music – all produced by collaborator Music, Art, Life- An event planning firm who focuses on bringing art to nightlife and upscale events.
Instagramers founder @Philgonzalez will be flying in from Spain to be present at this milestone event! Phil founded Instagramers "Igers" in January 2011. Today, there are hundreds of Instagramer groups worldwide. These groups host photo contests and photography walks – all to connect with their communities and share their photos via the Instagram app. Of these groups, eleven will be in attendance including event hosts @IgersSanDiego, as well as:
@Igers, @California_Igers, @IgersMexico, @IgersTijuana,
@InstagramAZ, @IgersOrangeCounty, @IgersTemecula, @IgersTucson, @IgersLA, and @IgersSF.
.
Participants at the World's Largest Instameet will have the unique opportunity of meeting founders and creators of Apps like @Photosi_Printup,  Layrs and FX PhotoStudioFX.
Attendees will also be able to participate in photo contests and scavenger hunts that could win products and giveaways from sponsors like Instacanv.as, Lifeproof, the Museum of Photographic Arts, PhotoSi, Layrs, and Pic-Tap-Go, among others, including a Nikon J1 digital camera.
.
"We are thrilled to host IGers Founder Phil Gonzalez, and are exciting to be making history.  We really feel lucky to be part of such a strong knit community focused on one thing, our love for mobile photography," says IGers San Diego Head Honcho– Claudia Sandoval.
. 
Instagramers San Diego features photos of San Diego, hosts meetups and contests. Follow @IgersSanDiego on Instagram and Twitter, and find them on Facebook.
.
Haute As Ever is free and open to the public, but attendees must RSVP and print their ticket by visiting www.hauteasever.com.
@IgersSanDiego