Singapore Chingay Parade 2014 on Instagram
.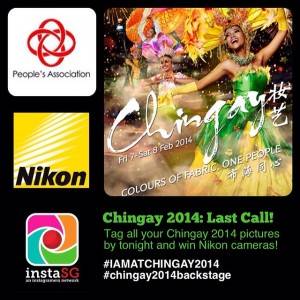 Vibrant floats, dancing dragons, prancing lions, stilt walkers, wushu master, performers of different races in their traditional costumes and many, many more… this Singapore national event is also the largest street performance and float parade in Asia.
.
Chingay Parade of Singapore is known for its resplendent floats and multi-cultural local and international performances that are an insight to the festive traditions and delight the hearts of many Singaporeans and tourists.
The word Chingay is from the Hokkien dialect of Chinese which means "the art of costume and masquerade", the festival began as a neighbourhood parade of with only Chinese elements in 1973. Today, the Chingay Parade has evolved to be the grandest street and floats parade in Asia, showcasing the rich, vibrant multi-culturalism of Singapore and exciting cultures all over the world.
.
The two-day event, held at the F1 Pit Building beside the Singapore Flyer on Friday Feb 7th and Saturday Feb 8th, captivated spectators with 8,000 multi-ethnic performers, 4-metre tall Giant Artistic Puppets, 700-children ballet performance, 720-metre long of colourful hand knitted tapestries and many more exciting stuffs.
 .
@InstaSG, our Instagramers network in Singapore has been invited to be the "Instagramer of Chingay″ since 2012. This year Nikon Singapore also jumps in with sponsorship of Nikon COOLPIX AW110 as the prize for #IAMATCHINGAY2014 contest, and Nikon COOLPIX S6600 as the prize for #Chingay2014backstage contest – both contests are run by Instagramers Singapore with the support of Nitrogram.
.
On the parade days, geared with some of the latest Nikon DSLR and Nikon 1 cameras (courtesy of Nikon Singapore), 10 selected instagramers roamed freely on the performance ground with their media pass which also gives them the access to the backstage to capture the moments behind this grand event. Check out what they captured as Nikon Singapore shared this on their Facebook Page.
.
.
..
From Singapore, here we share some posts that might represent the dazzling extravaganza of colors and cultural diversity. We hope you would enjoy it, and if you want more, feel free to browse the tags #chingay2014. We look forward to Chingay 2015 – and if you happen to be in Singapore around the end of February 2015, let's Instagram Chingay together!
.
More information at:
https://www.chingay.org.sg/ and
https://www.facebook.com/passionchingayclub
.
See you in Singapore next Chingay!
@InstaSG