Video de Meet The Experts Charla sobre Fotografía e Instagram
.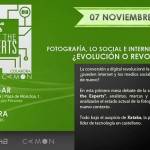 Ayer @XatakaFoto organizó un interesante evento llamado Meet The Experts. (vídeo empieza minuto 28)
#MTEFOTO (que fuel el tag sugerido para el evento) fue el primero de lo que esperamos ser una larga serie de encuentros sobre tecnología y tendencias de consumo, reunió a distintos puntos de vistas alrededor de la fotografía y la revolución que está conociendo estos últimos años.
Ayer participaron blogueros, fotógrafos, marcas fabricantes de cámaras digitales (Canon y Sony) y me brindaron la oportunidad de dar una pequeña charla sobre el fenómeno de Instagram y nuestra red de fans mundial Instagramers. Aquí el vídeo de las charlas que ofrecieron interesantes puntos de vistas. Os dejó disfrutarla.
Quería agradecer Antonio Ortíz (@antonello) , Jesús León ( @doctor_strange ) y Victor Gutiérrez de Xataca Foto por su interés e invitación así como a todos los participantes de la mesa redonda. Rafa Roa (fotógrafo) , Jorge Salgado (fotógrafo y experto en imagen digital) y los representantes de Canon y Sony presentes.
Uno de los puntos que quedó por hablar fue el tema de los derechos de los usuarios de Instagram en cuanto a propiedad de fotos y os dejo aquí en el enlace sobre un artículo reciente en este blog.
@philgonzalez
. 
.