Inkstagram makes Instagram photo feed available to Non-iPhone users.
.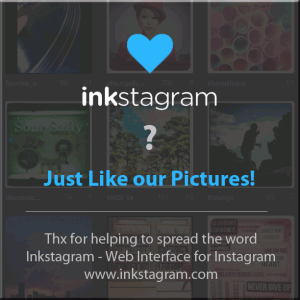 As you may know, Instagram is right now available on Iphone only for very understandable reasons and it will remain the same probably during for a while. However, all over the world more than 2.5oo free developers apis have been developed on the Instagram Api base for a use on Pc, opening the possibility to use Instagram out of the Iphone screens.

.
Over all we know the most famous and succesfull projects till now like the genuine one, Webstagram developed by Joe Mio in Japan or many other ones very original and creative bringing new user interfaces, look and feels and usability like Extragram developed in India by Sonaal Bangera in India or the last original  Statigram developed by tripnity in France. You can see these and more api projects here.
.
Today we received the breaking news that Inkstagram based in Guangzhou, China was about to release a new version of his Pc Instagram App.
Inkstagram.com will announce today within few hours, a new feature that enables Instagram users to quickly and easily share their Instagram contents inside and outside the Instagram community in a slide show and grid viewer.
This Public Profile would allows users to share their photos with other people who do not have an iPhone and/or even Instagram user account!
"Instagram's spectacular growth rate has made mobile real-time photo sharing the new big thing. However there still are plenty of people who are not using iPhones".  says Carel van Apeldoorn, managing director of Inkstagram.com.
.
How will it work?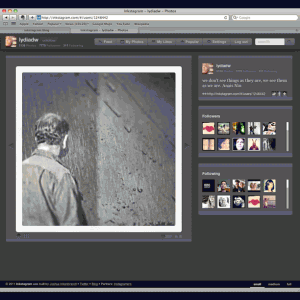 .
Inside the Inkstagram Setting , users will have to make their public profile switched "ON".  And then will allow  sharing tools availability  with their friends via Twitter, Facebook or any other platform directly.
Inkstagram provides the ability to send the link via email to friends  too.  The receiver will have directly access to the public profile.
Keep connected and within few hours you will see new Inkstagram Platform ready!
.
From Instagramers.com we really wish a great success to Inkstagram in this new step ahead and spread the Instagramers movement out of Apple screens too!
Let´s Instagram the world.
@philgonzalez
More about Inkstagram:
Inkstagram, founded by Joshua Inkenbrandt and launched in March 2011, is a company that offers a unique Web Interface to the Instagram Community via inkstagram.com.
Users can Like, Comment, Follow and Share all their content via a normal computer screen which allows photos stand out even more. Inkstagram will probably continue developing new features and applications for us Instagramers.
The company works independently from Instagram and does not have any formal business relationship besides the fact that we are all Instagram Fans!
.
More links:
Inkstagram on Facebook Instagram on Twitter