Each week, Instagramers.com discovers new people. People addicted to Instagram revealing their lives, passions, tips in Instagram.
Today we meet an "IGurl" from Paris. I met her many months ago, through a friend recommendation ( my sweet norwegian friend @ria as always!) one day and I followed her right away.
She is part of this trend of photographers called Street Photographers which is very successfull since the really first steps of Instagram. Just check our  recents interviews with very creative and interesting people like @auroramichavila (32.000 thousands followers soon! congrats Aurora!) and her friend @richnyc (25.000 followers or more now!) and Christina @cirkeline , @takinyerphoto , @Thomas_k , and so many brilliant people we will meet soon! Keep connected!
Street Photography is the reflection of our time, our day to day, the world that surrounds us.
.
Her name is Nathalie…
.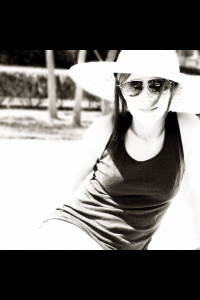 But people knows her as @NathParis . She is 35. Her nick defines it quite easily she lives in Paris too. One of the most beautiful, romantic and inspirative city all over the world and the place where I born. Lol.
She is not already a very "followed" User (4.000 followers) but I really think she deserves to be in the top. And if not, at least to be known by people interested by Street Photography and Paris Lovers.
For those who dont know her yet. Jump to your iphone and search @nathparis !
..
She is definitely in love with her city and she always lived in the french capital. She particularly appreciates the "high speed" and rythm of her life in the city cuz she is a  "Need 4 speed" woman.
She enjoys the atmosphere of its small cafés and its"petits quartiers"  (typical french expression for "cosy districts") .
.
Like many other Instagramers, she has something special to do with communication and creativity.
She studied Graphic Arts and she is Art Director for more than 12 years now in the advertising area.
Art was her first passion and is fully integrated in her day to day way of life as she is passionate by "typography" and "photography" too.
Two years ago, she decided to launch her own business  and she "gave birth" to her own Advertising agency what means a huge pride. A dream she had for so many years now.
.


" I´m really lucky to live my passion through my work every single day" says Nathalie.

.
One day, a friend of her told her about a new app called Instagram and she tried it out of curiosity. She was really no fan of social networks because she never found in them "any add value" but finally she discovered in our favorite photo-sharing network a place to be,  a place to live and express her own feelings.
.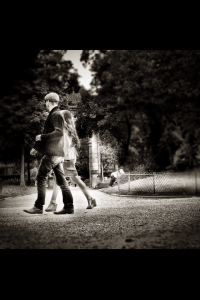 When did you first join IG? How?

.
I started in March 2011 and my first feeling was "Wow"!

I discovered soon surprising people and magnificient photographs through IG. I thought i had to take part of this movement as soon as possible!

.
Tell us about your first weeks user feelings in IG?
.
I started step by step,  but day by day I discovered I was completely in love, addicted!
I am really impressed by the Instagramers community. It´s a social network that brings warm everyone around a passion, which is quite rare in the social networks we all know yet.
People are so lovely and the communication so warm. Everyone comes for the same treason. Discover or make discover places or moment of their city, their life… I am stunned to see such kindness!
.


Why do you think you are so addicted to IG?

.
Instagram makes me fly away and dream all day … I'm in Paris and at the same time in thousands different places all over the planet… I would like to travel all year long and discover all the wonders that Igers share with me through their streams.. And I can not do without Instagram now!
.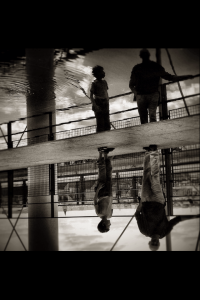 How long time do you spend a day in IG?

.
I'm so "addict" that I´m realizing that the first thing I do every morning is check my iPhone and find anything in haste, I could have missed during my sleep. So I up for lost time and spends everyday several hours on InstaGram discovering beautiful pictures and new wonderful people.

.
Were you already found of street photo before?
.
I always took pictures for my own work but especially during my travels or family events, birthdays, weddings…
My passion for street photography has been really boosted with Instagram.  Now when I leave my place, it´s always with my iPhone in hand, ready to shoot at any moment!
Now I'm on the lookout for everything. Every detail, every movement, every trend of people in Paris streets. When I´m back home, i use to review all my camera roll and I always keep my fingers crossed hoping at least one of them will be really interesting to post.
.
You are probably one of the most beloved Street Photographers in Paris. What´s the relation with your followers?
.
That's nice but I will not go so far !
I have many followers who are also living in Paris and they represent a great inspiration.
I think particularly about Eros (@eros_sana) and Sarah (@Selk). I admire their work. They have a special way to make us spend the beautiful emotions in a picture. As I said above, I find the relations between followers very healthy and very cordial.
I try not to miss the photos of people I follow. And try to give my best for people who love my work. They are so adorable.
I am always very flattered by their comments and their interest in my photos.
..


Did you have the opportunity to meet friends?

.
Not yet really  but I hope it will be soon! I hope to meet friends from IG and share experiences and laughs. I´m a follower of Instagramers Paris aka @IgersParis and I know they organized Instameets but i couldnt join them. I Think there is an event in September. I will do my best to join them!

.
Which is your favorite pic? How did you snap it?
.
I remember an incredible moment.
I was trying to "capture" a small boy under an umbrella. He was walking some steps ahead and I was really thinking it would be really great if he could just turn his head to take a picture of his face properly.
I took my Iphone and I shoot the pic however. When I shoot I realized he was just staring at me, probably surprised by my behaviour. It´s the kind of  "InstaMoments" I appreciate!
.
.
.
Which are your three fav´ editing apps?
.
My fav is Filtertorm and the one I use the most. It´s really amazing and seems a Iphone Photoshop editing software. Very intuitive and  really easy to use for Black and white or with colored pics. I recommend very often to my friends.
I use Camera+ and Noir App too.
.
How do you manage to take pictures of people? Do you ask them first?
.
Well, really, it´s really never easy to take pictures of people you dont know in the street.
The good point is that Iphones and mobiles are more discrete than digital cameras. I usually never ask people in the street. I take my pictures on my way home or work while I´m walking. Sometimes I simulate being calling or using the Iphone Apps.
Needless to say you have to be very clever and quick and you dont have time to stop and think or be shy.
I always take pics without stopping my walking and there are really instantaneous moments I catch. In my opinion, it´s just the "charm" of street photography. You never know what will be the result of the pics and sometimes when I´m home checking the pics I captured during the day, i feel like magic inside discovering really surprising results.
.
What have been your first reaction when you had your first Pop?
.
Like all the Instagramers, I suppose. It was just like "wow"!
I remember it perfectly. It was a picture of a french pastry called "macaron á la noisette" (with nuts) Really delicious. And one of my followers informed me I hited the Pop! I think I screamed of happiness!
..


Do your "non Instagramers" friends and family are bothered by your IG addiction?

..
Obviously friends and family may think I´m crazy. However, I think they know me well and they understand my interests in Arts and Photography. They know that I´m very minded and when I start a project, I work on it with all my heart. Generally, they support me in all new stuff I get involved and that´s a great deal.

.
If you had to recommend just one user you  to follow?
..
It´s a real difficult question for me!
There is so many people I enjoy. And so many talented Igers! But I have to admit that I ve a special feeling with @Thomas_k (see recent interview at instagramers.com link down here) I love sentiments and emotions he transmits through his pics.
But I also appreciate other people and friends like @takinyerphoto (see interview link down here) and specially @Ria (see interview here) that made me discover her so colorful country, Norway.
I discovered recently @mr007 work and i found it very interesting. Through his stream I discover Tokyo that impressed me the most.
.
Something you would say to a new user?

..
I would tell him that Instagram community is a very special place. For me, IG has been an awesome finding.

Never mind if you are an artist or not. Everybody can express his feelings, his own life, moments and discover new worlds! Really, wherever you are in the planet you are always surrounded by art and creative possibilities.

You just have to keep your eyes wide open and admire!

.

Thanks very much for your time Nathalie and keep on the good work! Paris sera toujours Paris!

@philgonzalez

..
Other Street Photographers recent Interviews at Instagramers.com:
.
– Meet AuroraMichavila
– Meet Cirkeline
– Meet RichNyc

– Meet Takinyerphoto
– Meet Thomas_k