Instagramers Celebrates its Second Anniversary and 3 million visits.
.
Tomorrow will be our second anniversary. Our first article was posted on 2011, January 18th.
.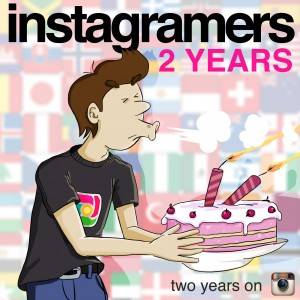 I remember its headline was  What is Instagram? 
We were less than 1 million users around the world and Instagram didn´t have its own corporate website.  At this stage, nobody knewvery well what was Instagram. Some called it Instragam, Instargramm, Hispatragram. So confusing!
I was myself wondering if supporting or not the "evangelization" of this strange named photo-sharing app as these guys from San Francisco just removed my first @instagramers account (losing my first 5.000 followers) alluding to the name was very similar to Instagram´s one.
However, I was very addict to the app itself and I was not thinking of getting married with none of them so I decided to go on and focus on my mission to help people. I made my best to give an hand to thousands of "newbies" who were lost on a virtual world with no information around IG.
.
My friend @antonioBaez and my beloved designer @elhombretecla helped me setting a blog.  I started writing for hours. I worked like a fool during free days, nights, week ends, holidays …  Writing News, Tutorials and Interviews of cool people I was discovering.
One day, a girl from Barcelona called Marta Alonso @martaar suggested me to open a first Instagramers Fans group in her city. I accepted and we called it simply @IgersBCN. It seems yesterday…
It was only two years ago but it feels as years! We are now more than 300 groups all over the world, supporting Instagram´s religion and passion, organizing events, photowalks, instameets, exhibitions and even a congress.
I missed tons of my friend´s party and probably lots of fun too but something was supporting me. Passion for Instagram maybe?
And definitely the help and motivation of hundreds of new Instagram´s real good friends. It´s impossible to list all of them but I know they know they are in my thoughts and heart.
To all our M_, Members, ManIgers, Followers, Partners and of course to our Instagram Team. I would like to send a big THANK YOU for your words, support and make this come true! Hope to enjoy this wonderful human experience for many more years!
@philgonzalez from @igers
.
Two Years of Instagramers in few words
.
3.000.000 visits to the blog Instagramers.com and 2.200.000 unique visitors.
.
More than 330 groups on 80 countries organizing biggest instameets.
.
More than 60 millions tagged with #Igers Cities Tags (Top 10)
.
Hundred of photowalks and Dozens of exhibitions.
.
.
More than 100 press releases, tv shows, reportages on magazines. (see links here)
.
Dozens of mentions at Instagram´s Blog around our Instameets.
.
.
Millions of Likes, Tons of Love and Lots of Hugs and Kisses.
.
Let´s Instagram the World!
.