Instamem, the founders Interview.
.
Few days ago, Tayfun van Zantvoort from  InstaMem.com contacted with me and briefly explained  his new project around Instagram.
As I try to do, every single time I have a free moment, I sent him a mail to know a little bit more. A cool way to discover apps and webs around Instagram is to talk directly to their developers. We met here founders from Extragram, Instaplatform, Webstagram or even Instagram founders themselves!
Let´s discover today who is behind Instamem and what´s the meaning of this new tool.
Tayfun van Zantvoort answered to our questions.
.
How did Instamem come to your mind and what is its main idea?
.
As usual i was browsing through the large amount of apps that there are out there and stumbled upon an app called Instagram. It took me about 1 hour to be addicted for life. A place where one posts a photo that's cool, funny, beautiful or realistic.
With that, automatically all visuals become one big eyecandy! So with looking at what other people post from all around the world it striked me. Some photos reminded me of my childhood, some of them reminded me of a celebrity and so on.
That's when i came up with the idea of InstaMem, instead of just liking a photo of just commenting, i thought it would be nice for the community to maybe see or hear what that picture reminded me of.
With InstaMem you can do this.
.
In just 2 clicks you can add a reminds-me-of and share your thoughts with the community. On top of that the community can post their own idea of a reminds-me-of.
.
With these reminds-me-of's you can explore new music, movies, books etc…you maybe never heard of and broaden your ever need of new input in your (social)life!
.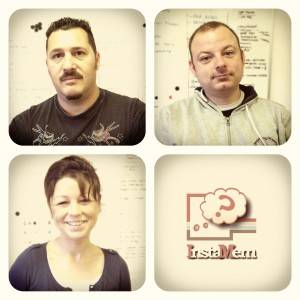 Can you tell us about the development of the App?
.
As we started building InstaMem i already knew there where several services brought to life just for the sake of the InstaGram community, i loved that.
That's when my second idea came in.
Wouldn't it be great when i have all the services in one place and more so, wouldn't it be great if i can handle all my doings with my InstaGram photos on one place?!
This means that i can browse, like, comment, add reminds-me-of's to a photo. But at the other side can print my own photos as a poster or backup my likings and my own photos or look at statistics, purchase my photos as a hardcover album and the list goes on and on!
That decided me to go out and contact almost every service to ask them if they would be ok whit my idea to combine all InstaGram services. The result was an enthusiastic feedback and therefor at this moment I've managed to integrate all popular services.
There 2 groups, one for individual photos (found on the photo detail page as a goodiebag) and one group for all photos (found as a toolbox with the user panel), of course only available for you own photos!
.
Did you build it yourself?
.
No, really i developed it with with two other colleagues. I have a small advertisement business called MonTay Media. We are three people in did. We are always in search of new innovation and try to bring that to our customers. I´m the head designer, Twan Vennix is the programmer/developer and Linda Stoffels is the desktop publisher and our personal 'cry-out-shoulder' of the company!
.
What are your future plans for Instamem?
.
At this moment we are working on a way to make InstaGram even more fun, competitive and more manageable.
– The fun part is to mark your likes as favorites in order to see them back as a complete tile list.
– The competitive part let's you 'earn' crowns of achievements for example the level of activeness in liking photos or adding reminds-me-of's or commenting, for every activity there will be rankings.
– The manageable part makes it possible to sort your photos or your likings into albums so when you want to see your favorite landscape photos you don't have to browse through all the other photos also! And (not the least), we are working on a tagmanager to make your photos more findable.
I know, all ideas on a platter is he nuts?! No, actually, i hope this triggers the IG community to come up with more ideas and or initiatives.
.
Are you promoting any contest or new Service admittance?
.
Yes. The #IMcontest will be held every month with a different assignment and in the future with different prizes to win! This is the real fun deal! Keep connected with us through Facebook or Twitter and you will be soon informed.
We are always in search of new innovations and would like everyone that has a new InstaGram service to contact us for joining / integrating InstaMem at instamem@gmail.com
And IGers, please let us know how you feel about our ideas and feedback us somewhere out there on InstaMem.com or Twitter, Facebook or Google+, we love to hear from you!
.
Thanks Tayfun for your time and for this funny and creative new project around Instagram!
@philgonzalez
.
More info about Instamem:
On Twitter: