Shooter Magazine, The Magazine for Mobile Photographers
.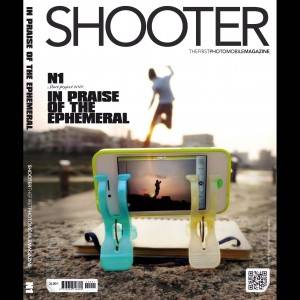 Instagram can be more than 100 million users now, it still has a human and familiar touch…
This last week, Milos @avenueone and Luis @elwood presented to the world their new magazine project. A magazine made by mobile photographers for mobile photographers. But it is not just another magazine. In addition to a great quality content, it´s a project of "crowdfunding" during this difficult economic times. If you like mobile photography and human projects, this is your chance to experience it first hand and enjoy it!
The magazine includes interviews and new people in the field of mobile photography and this first issue integrated reports on very well known Instagramers who were featured in our recent interviews in the past few months .. People like @ GiacomoPor (interview) @ Mijfuz (interview) @ Nialloleary (interview) @ NathParis (interview) @ Ria (interview) @ Thomas_K (interview) and many others like Santi Tur @ Atfunk, Jose Antonio Consentino @ murcielaguillo … Just as the interview of a professional photographer (and early adopter on Instagram Pablo Almansa @Incan) and an original application tutorial.
.
This is the first announcement message they wrote on @shootermag profile on Instagram.
This is the cover of "SHOOTER, The First Photomobile Magazine". We want everyone to fellowship with him. WE DO NOT SEEK CUSTOMERS, BUT RATHER PARTNERS, FRIENDS, COLLABORATORS, AND PATRONS! The rules of our game are HONESTY, TRANSPARENCY, AND SUSTAINABLE BENEFITS. If you would like to be one of the only 3,000 partners, friends, collaborators or patrons of SHOOTER and become a shareholder of this unique and pioneering project, all you need to do is to subscribe to the magazine, and you will receive four personalised issues per year.
THESE ARE HARD TIMES, AND IT IS OUR LOT TO DWELL BETWEEN DISASTER AND MIRACLE. YOU ARE PART OF THE MIRACLE! More information in @shootermag and www.shootermag.wordpress.com
.
From Instagramers.com we wish long life to Shooter Magazine!
@philgonzalez